News
Fat babies grow into trusting adults
---
This article is more than 8 years old.
Kids who feel satiated in the womb think they are being born into a wonderful world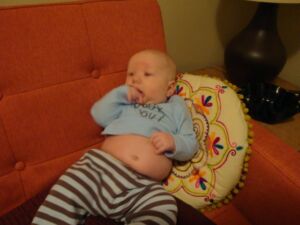 Babies who are born overweight tend to grow into happier, more trusting adults, according to new research from Aarhus University.
"If a foetus has had easy access to nutrition, it has a sense that, 'hey, the world must be a nice place,'" Michael Bang Petersen, a professor of political science  at Aarhus University, told DR Nyheder.
"It is obviously not a conscious thought, but the response of some completely automatic physiological functions we are talking about."
Petersen said that a foetus well-fed in the womb is prenatally programmed to feel more confident about the world.
No binging allowed
Petersen said, however, that expectant mothers should not run out and stock the pantry with Bogo.
"A child's birth weight is not just influenced by the mother's consumption of calories, but also how she feels during the pregnancy," Petersen said. "She needs to be free of stress and feel support from those around her."
READ MORE: Danes fatter than they think
Petersen prescribed relaxing before bonbons.