News
SAS trimming Edinburgh route
---
This article is more than 8 years old.
Ryanair's planned route to Scotland causing Scandinavian giant to reduce its flights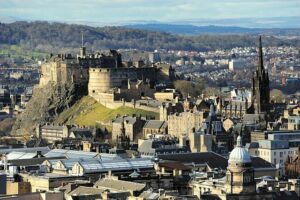 Sixth short months ago, SAS launched a Copenhagen-Edinburgh route that offered five weekly flights during the summer. The original plan called for the airline to continue with three flights per week during the off-peak winter months.
SAS now says it plans to reduce the route to two weekly flights throughout most of the winter until March of next year.
"We started the route last summer to great demand," SAS spokesperson Anna Nielsen told Checkin.dk. "Looking at the winter months, we are now reassessing demand."
READ MORE: SAS to close nine routes in 2016
Nielsen said that competition from Ryanair, which starts its own Copenhagen-Edinburgh link on November 6 was part of SAS' decision to trim its flights.
"New route openings to the same destination may affect competition," she said.
Competition increasing
Competition on the route between Copenhagen and Edinburgh is more intense than ever. Norwegian flies on Mondays, Wednesdays and Fridays, while Ryanair has chosen Mondays, Fridays and Sundays. SAS will drop its Wednesday departure throughout most of the winter, flying on just Mondays and Fridays.
"We still believe that we have a very good product, and departures on Fridays and Mondays gives us a good weekend product," said Nielsen. "We also have two weekly departures from Stockholm, so altogether we have four weekly flights from Scandinavia to Edinburgh."