Art
Early November Art: Chung's 'Camp' couldn't be better timed
---
This article is more than 8 years old.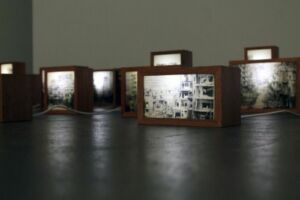 TIFFANY CHUNG: Camp
ends Nov 14; Trampoline House, Thoravej 7, Cph NV; donation 20kr; campcph.org

Using multiple media, including light installations and cartographic drawings stylising real movements, Vietnamese artist Chung depicts the situations affecting refugees and the extraordinary responses and abandonment that result.
Chung incorporates her refugee experiences into her recent works and new pieces for her first exhibition in Denmark.
Free booklets and guided tours accompany the showing, and the exhibition includes a debate on November 6 about European civil society responses to the migrant crisis. (JM)
---
Open Workshop: The Queen's Birthday Present
Oct 29-Feb 28; Statens Museum for Kunst, Sølvgade 48-50, Cph K; open Tue-Sun 10:00-17:00; Wed 10:00-20:00; free adm

Watch one of SMK's conservators restore one of Queen Margrethe II's antiques, the royal table of Charles VI, the Holy Roman Emperor. It's an exciting and unique experience! (LK)
---
KE15 – The Artists' Autumn Exhibition
Nov 7-Jan 3; Den Frie House, Oslo Plads, Cph Ø; 60kr; en.denfrie.dk

It's time for Den Frie's annual talent showcase again, as upcoming artists from across Denmark exhibit their works – expect individuality rather than themes and narratives at this longstanding event. (JM)
---
HANNAH RYGGEN: Weaving The World
Oct 31; Moderna Museet, Ola Billgrens Plats, Malmö; 100-120SEK; modernamuseet.se

One of Scandinavia's foremost 20th century artists, Hannah Ryggen's modernist, captivating and detailed weavings are on display across the water in Malmö. Exhibited in collaboration with Nasjonalmuseet of Oslo. (JM)
---
HOTEL PRO FORMA: Today's Cake Is A Log
Nov 6-29; Kunstforeningen GLStrand, Gammel Strand 48, Cph; 50-65kr; en.glstrand.dk

Expect a journey through the last 30 years of Hotel Pro Forma's productions as you move through GLStrand. Room by room, the acclaimed company defies genre in re-imagined tableaux vivants. (JM)
---