General
Film review of: '99 Homes'
---
This article is more than 8 years old.
Deep drama serves a home truth to hollow Hollywood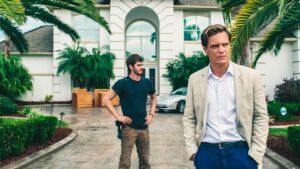 From documentaries like The Inside Job to dramas such as Killing Them Softly, the financial crash has inspired filmmakers to make some astute admonishments for those handling the crisis – but few have the emotional urgency of this, the fifth feature from American-Iranian writer-director Ramin Bahrani.
A home astray from home
Set in Florida during the years that immediately followed America's banking crisis and subsequent bail-out, it follows the life of construction worker Dennis Nash (Garfield) as he, his mother (Dern) and his young son are evicted from their home by a real estate broker named Rick Carver (Shannon).
Carver exhibits little joy in carrying out his work, but nor does he show any empathy either, describing himself as simply the messenger, a tool of the banks, to whom the properties now legally belong. In truth, Carver stands to make a fortune by winning the contracts to evict dozens of tenants, exploiting certain legal loopholes to collect the properties – and turning the misery all around him into large profits.
With nowhere else to go, Nash, a single father, puts his mother and son into a motel – the three of them in a single room. A depressing place, it's populated by unsavoury characters and families who were similarly evicted. Nash makes a promise to his mother to somehow win back their house and get them home again.
At rock bottom, Nash encounters Carver – and this time, Carver offers Nash the opportunity to work for him. In a matter of weeks, Nash makes a Faustian pact with Carver that costs him his soul. Soon he's entering into a business partnership with the same man who forced him from his home, making a living by evicting families in similar situations to his own, or worse.
Origins in a humble abode
99 Homes reminded me, both in its ferocious energy and its power play between the two principals, of last year's Whiplash. Made from similarly humble means, both are incredibly well constructed character studies, featuring one maniacal authority figure exploiting the hopes and dreams of a vulnerable subordinate. And 99 Homes has a social conscience to boot.
At one point, Carver tutors Nash in a speech that recalls Brad Pitt's final 'America is a business' monologue in Killing Them Softly: "America doesn't bail out the losers. America was built by rigging a nation of winners, for the winners by the winners. Only one in a hundred is gonna get on that ark son, every other poor soul is gonna drown. I'm not gonna drown."
At home in their roles
Its complex quagmire of greed and morality that never settles for easy absolutes. Both Shannon and Garfield are brilliantly cast, excelling in their respective roles and ably reflecting every nuance of the material with intelligence and depth.
Shannon (best known for his role as Nelson Van Alden in HBO's Boardwalk Empire), in particular, has a difficult line to walk. Carver's bullying could easily have been theatrical, but Shannon keeps his simmering menace within the realms of credibility and the writing is such that we understand, if not identify with, him.
While 99 Homes adheres to certain conventions in its narrative construction, the performances are brilliantly realised, with notable support from the always reliable Dern – while Bahrani's solid hand grips us from the off, refusing to let go until long after the credits roll.