General
CPH:DOX review of 'Uncertain'
---
This article is more than 8 years old.
No uncertainty that this is a riveting documentary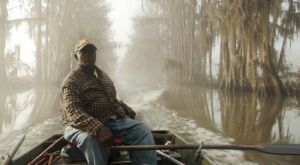 'Uncertain' is a simple, poetic film full of humanity and horror.
The title character is a town that lies on the stateline between Texas and Louisiana. Some handsome photography of mist rolling through the surrounding lakes and swamplands introduces us to an air of mystery that pervades the place. There's a sense of majesty about its nature too. We're told by its sheriff that this is a town you can only find if you're lost.
But just in case we need some help with our surroundings, we see some signs of humour – quite literally. The road posts for The Church of Uncertain and Uncertain Police Department must never get old.
Essentially we follow three protagonists: Wayne, a hunter who is intent on killing a boar called Mr Ed; Henry, a horny septuagenarian with a chequered past; and Zack, a lonely young man with diabetes and few prospects for the future.
While directors Ewan McNicol and Anna Sandilands bring a lightness of touch to the proceedings, they're not afraid to abandon it when their narrative calls for closer inspection of the darkness in their subjects. The three men are well chosen, likeable and funny, but for each of them this belies a fundamental struggle – with their past and themselves.
And all three stories are underpinned by a further strand about an aggressive weed that covers the lakes and threatens to upend the balance of nature in the area.A local scientist is fighting to introduce 'weevils' larvae in order to combat the weed, which echoes the internal battles raging inside the three protagonists.
Uncertain is screening on Tue November 17 at 16:40 at Grand Teatret. There are no more scheduled screenings of the film at CPH:DOX. Learn more at cphdox.dk