Schools
This year's CBS Alumni of the year…
---
This article is more than 8 years old.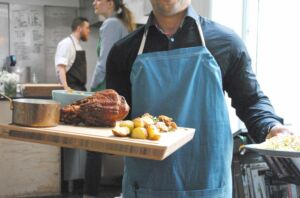 Marian Reed and Heather Thomas, the founders of MadMad Mad Bodega, won the Alumni of the Year award at the CBS Alumni Day on November 7.
Every year, the Copenhagen Business School recognises significant achievements by former MBA students, and this time the award went to the duo from the United States.
Reed and Thomas found they were both interested in the current Nordic food movement while working on their final 'Integrated Strategy Project'.
After graduating, they decided to stay in Copenhagen and opened their special restaurant, where guests can learn to prepare healthy meals using local, seasonal and organic produce.
MadMad Mad Bodega is located in Vesterbro and combines food service with edutainment products and services that can inspire people with new ideas and teach them new skills so they can eat in a more sustainable way.