News
Winter's getting serious
---
This article is more than 7 years old.
With police already warning of slippery roads, a snowstorm is now forecast to move in on Thursday night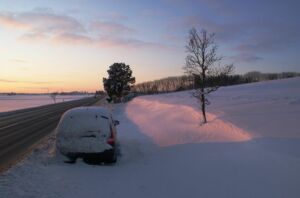 Police in north and west Zealand are warming motorists to slow down due to the icy conditions on many roads and motorways. A rash of accidents have been reported throughout the day, and with temperatures staying below freezing, police fear the ice will not be going away anytime soon.
Snow on Friday morning
Motorists and commuters can count on things being even dicier if a snowstorm forecast for Thursday night into Friday morning drops the 10-15 cm of snow currently promised.
While some places may wind up more wet than white, it looks like most of the country will see some snow.
A low pressure system moving in from Britain meeting cold air above Denmark could bring near-blizzard conditions to the southwestern part of the country on Thursday night.
Hard to predict
The wintry weather will spread into the northern and eastern parts of the country on Friday morning, with accumulations of between 5 and 15 cm of snow expected. The heaviest snow should be in the northern and eastern parts of Jutland.
Temperatures are expected to rise in front of the front, making it hard to predict exactly where the line between snow and rain will fall.