General
Film review of 'The Hateful Eight'
---
This article is more than 7 years old.
Eight's great: It does what it says on the tino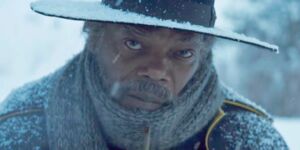 Quentin Tarantino's second western, The Hateful Eight, also happens to be his eighth film – which is more than a numerical coincidence as this latest offering celebrates his own filmography as much as that of his heroes.
Trademark Tarantino
Present, of course, is his trademark quick-fire dialogue, which only very occasionally threatens to eclipse the performances themselves, his often innovative use of multiple perspectives on the same event and, as with Reservoir Dogs, a limited number of locations. The latter betrays the film's origins as a standalone theatre event, which won him so much praise that the director decided to commit it to film.
As with his Grindhouse collaboration with Robert Rodriguez in 2007 (a meticulously realised drive-in cinema double bill – released in Denmark as two separate features), there is a fetishist's attention to detail in recreating the feeling of a Sergio Leone western from the 1960s or 70s, complete with a musical overture and an intermission of 15 minutes.
Trustworthy Tarantino casting
Opening on the snowy plains of a wintry Wyoming, with a deadly blizzard in close pursuit, a horse-drawn carriage encounters Major Marquis Warren (Jackson), a decorated African war hero badly in need of a lift. The carriage contains a bounty hunter named John 'The Hangman' Ruth (Russell) who is escorting Daisy Domergue (Leigh), a wanted murderess, to collect the sizeable bounty on her head.
Soon after collecting another needy straggler on the road, Sheriff Mannix (Goggins) of the confederate south, extreme conditions force the uneasy company to take refuge in a cabin inhabited by more unsavoury sorts. Here the narrative plays out. With good coffee in short supply and trust even less so, no-one dares turn their back, let alone risk any shut-eye.
Tension-teasing Tarantino
Despite legendary composer Ennio Morricone's insistence he would never collaborate with Tarantino again, his incredible score here bolsters the nostalgia for the period of filmmaking for which he is famous, sometimes to dizzying effect, ratcheting up the tension to horror film proportions.
This is probably no coincidence since Tarantino's film is perhaps his most gleefully dark yet, like some turn-of-the century Grand Guignol, with blood that enthusiastically erupts from the screen, ejaculating from wounds and splattering cast members from head to toe.
Thanks to Kurt Russell's contribution, this tone is further exacerbated by the clearly deliberate evocation of John Carpenter's classic sci-fi horror, The Thing (1982), which despite a more contemporary setting, also stars Russell snowed-in, with several suspects who are potentially not what they appear to be – with a soundtrack from, yep, Mr Morricone.
Tarantino The Special One
That said, this is more than a simple re-skin of a beloved classic (see The Force Awakens), as Tarantino has put his indelible signature on a work that, despite harkening back to the fondly remembered corners of his video rental store, could only have been made by Tarantino – today.
It gives a solid start to a cinema year that will certainly be inundated with further franchise reboots, superhero sequels and cynical, post-Hunger Games attempts to ensnare the young adult demographic.
More than ever, Tarantino appears unrelated to these things, stubbornly endeavouring only to please himself, so that, if only in contrast to the rest of today's cinema landscape, his peculiar work feels entirely indispensable.