General
This Week's TV: Sherlock most speedily
---
This article is more than 7 years old.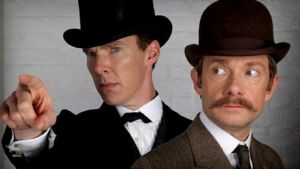 PICK OF THE WEEK
SHERLOCK: LATEST EPISODE
DR3, Sun 21:00
In case you're new here and wondering what imports the national broadcaster blows its cash on, it tends to be Louis Theroux, The Walking Dead, Homeland, acclaimed docs, anything with the vaguest Danish connection … and Sherlock.
And so, bang on cue is the latest episode of the Benedict Cumberbatch juggernaut (hands up who thought he would end up being a character actor whose name nobody would ever remember how to spell), just nine days after its UK transmission date.
"If there's a superior 90 minutes of TV this year, then we're in for a treat," noted the Daily Telegraph about an episode in which Holmes and Watson travel back to 1895 – proof you can get away with anything providing the Cumberbitches get their fix.
Be warned, though, as the consensus among the grumpy old men was that the once great Sherlock has fallen … deeply in love with itself.
---
ALSO NEW
K5, episode 1: Sat 23:40; episode 2: Thu 20:00 Stalker
All human interaction cheers you up in January – even with a Stalker. So thank the lord for Kevin Williamson's (Scream) unoriginal offering.
If you're in need of musicality, opt for Adele – Live in London (SVT1, Fri 22:00), Katy Perry – the Prismatic World Tour (SVT1, Fri 23:10), Discovery Lennon (DRK, Mon 22:20 or Wed 19:05) and The Changing Face of Elton John (DRK, Sun 22:35 or Wed 18:15).
If other people's misery floats your boat, how about Danish X Factor (DR1, Fri 20:00) or Denmark has Talent (TV2, Sat 20:00)? Or any of a trio of downcast docs from Britain's Channel 4: The Murder Detectives (DR2, Mon 20:45), Gypsy Blood (DR2, Tue 23:50) and Blackout (DRK, Wed 17:20).
For something uplifting try The Wonder List with Bill Weir (DR2, Mon-Thu 19:20), Edit NY Stories (SVT2, Sat 23:10) and First Peoples (DR3, Fri 19:05).
Elsewhere, we've got S3 of Devious Maids (K4, Fri 21:55), S3 of The Flash (K5, Sun 21:00) and S5 of Arrow (K5, Sun 21:55); chortle at Ricky Gervais presenting The Golden Globes (DR3, Tue 20:45) and Miranda Live (SVT1, Sat 22:35); there's a 2015 episode of the British version of Wallander (DR1, Mon 22:30); and lend us your ears as Champs (DR2, Mon 00:00) recalls the careers of Tyson and Holyfield.
---
COMING SOON
AND THEN THERE WERE NONE
The best Blighty festive offering was yet another adaptation of And then there were none. Screened over three nights with a fantastic cast, most viewers were in agreement this was a version worthy of the queen of crime's masterpiece.
Ten people gather on an island cut off from the mainland, and then the murdering begins.
Christie herself changed the dark ending for the stage version, and most films followed suit, but here it is restored, along with other tweaks.
No spoilers here, but look out for the scene in which they polish off the drinks cabinet and dead man's cocaine and replay the record – Christie herself would have loved it!
---
SPORT OF THE WEEK
K6, Sat 13:00 FA Cup: Wycombe Wanderers vs Aston Villa; Eurosport, all week from Sun 20:00 Snooker's The Masters; TV3 Sport 2, Sun 14:25 BDO World Darts Final
Should Wycombe see off Villa in the FA Cup, would it really be an upset. In the EPL, Arsenal take a tricky trip to Liverpool (3+, Wed 20:00), Newcastle host Man Utd (K6, Tue 20:00) and Spurs take on Leicester (TV3 Sport 2, Wed 20:55). Elsewhere, we've got the NFL wildcard games (3+, Sat 22:00 & Sun 18:30); the start of snooker's The Masters and the final of the BDO world darts.
---
FILM OF THE WEEK
DR2, Fri 20:00 The Lady; DR2, Sat 17:30 Dangerous Beauty; K4, Sun 20:00 The Big Wedding
Given her recent victory in the Mynamar elections, maybe it's time you brushed up on Aung San Suu Kyi via the capable biopic The Lady, which stars Michelle Yeoh in the lead. Elsewhere, Dangerous Beauty is not as bad as it sounds, but Robert De Niro can't save The Big Wedding from being an almighty disaster.