News
Denmark making inroads in Tunisia
---
This article is more than 7 years old.
Denmark will continue its support via the Danish-Arab Partnership Programme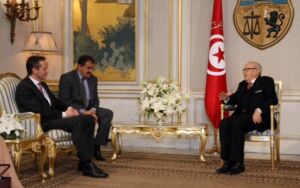 The foreign minister, Kristian Jensen, is in Tunisia this week to meet with several key leaders in the political spectrum, civil society and business environment of the north African nation.
Jensen met with the country's president, Habib Essebi, and its foreign minister, Khemaies Jhinaoui, yesterday to discuss regional development, terrorism, migration, Islamic State and the situation in neighbouring Libya. The foreign minister also met with a number of civil society organisations.
"Through the Danish-Arab Partnership Programme (DAPP), Denmark has supported the nation's notable democratisation process, which is unique to the region," said Jensen. "The young Tunisians in particular have benefited from this support."
"It was the young people in particular who were behind the revolution in 2011, and they are still an important driving force for positive reform. My message to the young Tunisians is that Denmark will continue to contribute to ensure better economic opportunities and prospects."
READ MORE: Danish program strengthening bonds in the Middle East
Supporting agriculture
The DAPP is a Danish co-operation program with the Middle East and North Africa (MENA) focusing on reform and democratisation.
Jensen also oversaw the signature of a new agreement between the Danish food authorities Fødevarestyrelsen and SEGES (Knowledge Centre for Agriculture and the Danish Pig Research Centre) and the Tunisian Ministry of Agriculture.
The agreement aims to make Tunisian agriculture legislation more efficient and improve dairy production in the northwestern part of the country. Denmark will support the project with 20 million kroner.