News
Copenhagen streets to carry the names of prominent feminists
---
This article is more than 7 years old.
New roads and squares in Copenhagen to be named after the likes of Virginia Woolf and Gertrude Stein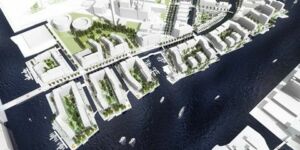 Over the past few years, Denmark's capital has seen extensive urban development and new residential areas are springing up everywhere in the city, reports Politiken.
The municipal committee for street names, Vejnavnenævnet, has agreed the new streets and squares should carry the names of Nobel Prize laureates as well as important Danish and foreign female figures.
New waterfront neighbourhood
The central street in the new waterfront neighbourhood of Enghave Brygge will be named Mandela Allé after Nelson Mandela, while another Nobel Peace Prize winner, Cordell Hull, will get his own square in the area.
Enghave Brygge consists of 10 artificial islands and will provide about 2,400 housing units as well as shops, cafes and wide promenades.
In total, the city needs to find new names for 19 new streets, bridges and parks in the neighbourhood.
Named after women
Meanwhile, the street names in the new district at Bella Center in Ørestad and around the capital's two largest hospitals will pay tribute to a number of Danish and foreign female figures.
"There is an imbalance between men and women when it comes to naming streets, squares and parks in Copenhagen, and we want to change that," Morten Kabell, the deputy mayor for technical and environmental issues, told Politiken.
If proposals from Vejnavnenævnet are accepted, the residents of the new neighbourhood will walk on Emma Gads Vej (Danish satirical writer), Astrid Lindgrens Plads (popular Swedish children's book author), Virginia Woolfs Vej (British writer and modernist) and Gertrude Steins Vej (American novelist, poet, and playwright).
Similarly, a number of existing streets at Bispebjerg Hospital and Rigshospital will be renamed to pay tribute to a number of Danish female researchers, inventors and natural science pioneers, including Nielsine Nielsen, Inge Lehmann, Esther Møller, Ebba Lund, and Esther Ammundsen.