News
Brøndby in chaos as Frank calls it quits
---
This article is more than 7 years old.
The 'Boys from Vestegnen' beginning to look like the Palermo of Danish football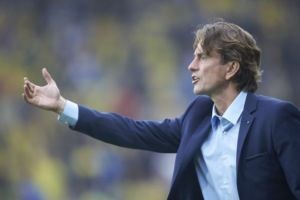 Brøndby IF football club is in a state of disarray following the news today that Thomas Frank has stepped down as head coach with immediate effect.
Frank's resignation comes a day after the board director Jan Bech Andersen anonymously criticised a number of Brøndby actors including Frank on a fan forum.
"As of today, head coach Thomas Frank has resigned from his position," Brøndby wrote. "We are working to find a temporary head coach for Brøndby IF's Superliga team."
And that man will be former club great Auri Skarbalius, according to new reports.
READ MORE: Brøndby fires sports director
CEO gone too
Frank, 42, had been the head coach of the club since 2013 following stints as the coach of Denmark's under-19 and under-17 national teams.
The club also revealed that the club's CEO Søren Vadmand was also let go following the release of financial results for 2015, which showed a loss of 17 million kroner.
Brøndby's CFO Jesper Jørgensen will take over as CEO.