General
This Week's TV: Terror at the top
---
This article is more than 7 years old.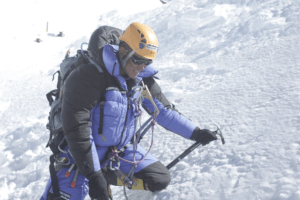 The Summit
SVT2, Mon 22:15 or SVT1, Wed 23:30
Nick Ryan's acclaimed 2012 documentary The Summit combines footage, interviews and recreations to retell the 2008 K2 disaster that claimed the lives of 11 mountaineers on the second-highest mountain on Earth.
"The Summit does an amazing job of putting you on the mountain, making it one of the most terrifying horror films a climber could ever see," said the Portland Oregonian.
The 'Jason Voorhees' of this piece is the Bottleneck, a steep couloir overhung by seracs where the risk of falling ice and avalanches make climbers aim to minimise their time there.
With 65 on Metacritic, this is by no means a perfect retelling, but then again, it's a complex story mainly based on survivor testimony that cannot be refuted by those who lost their lives on the mountain.
Also new:
Reggie Yates used to present Top of the Pops, and he's comfortable in front of the camera. But as a journalist, he's no Louis Theroux.
The same could be said of the likeable Stacey Dooley and the actor presenter of Tyger takes on … (DR3, Tue 20:00), but Britdoc producers are increasingly turning to young blood to seek out a demographic more suited to reality TV, and shows like the semi-gonzo Reggie Yates's Extreme South Africa are the result.
Will Reggie make it out alive? Will he cop off with the lady he's flirting with? And what will he do when his earpiece stops working?
The Brits don't dumb down everything. C4's Forced Marriage Cops (DR2, Tue 23:05) and ISIS: The British Women Supporters Unveiled (DR2, Mon 20:00) explore how women are abused at home and afar, while David Tennant presents the moving Kids in Camps (DR2, Wed 23:05).
Elsewhere, there's another chance to see the British miniseries Cilla (DR2, Wed 20:00), served up in one big dollop, and the acclaimed House of Saddam (DR2, Sun 00:15); we've got S3 of the New Orleans-based jazz-themed series Treme (SVT2, Fri 23:15); and depending on your tastes, you might actually find Finnish doc Au pair I Los Angeles (SVT1, Thu 22:45) funnier than Jimmy Carr: Being Funny (Zulu, Sat 23:25).
Coming soon:
The Night Manager
Currently on British TV screens, The Night Manager has a lot to live up to with its starry cast and director Susanne Bier, the Dane at the helm of the Oscar-winning In a Better World.
The always charming Tom Hiddleston is the night manager of a hotel, recruited to infiltrate an arms dealer's network, starring alongside a strong cast that include British dependables Hugh Laurie, Tom Hollander and Olivia Coleman.
The Guardian called it "explosive and romantic and beautiful to look at", and we'll assume they aren't talking about Hiddleston's shirtless scene.
Sport of the week:
With one non-top tier side in its last eight, the FA Cup is running out of possible upsets. Reading vs Crystal Palace (K6, Fri 20:55) and Man U vs West Ham could oblige. Hard to see the home sides in the big CL games – Barcelona vs Arsenal and Man City vs Dynamo Kiev (TV3 Sport 1, Tue 20:40) – failing to progress. Talking of outsiders, Leicester could go eight clear in the EPL.
Film of the week:
Laurence Olivier and Liam Neeson have played Zeus, so you know you're in trouble if that role goes to Chris Evans. Immortals again proves that Hollywood should steer well clear of Ancient Greece. Evans also pops up in romcom What's your Number?, which along with Going the Distance (TV2, Sat 21:50) and The Rebound, completes a trio more grisly than the Gorgons.