News
Danes donate nearly 150,000 kroner to help people fined for smuggling refugees
---
This article is more than 7 years old.
Danish Fundraising Board says crowdfunding on caremaker.dk is illegal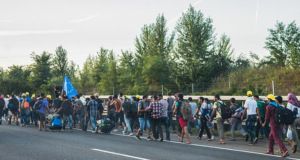 Danes have raised nearly 150,000 kroner through a crowdfunding initiative on caremaker.dk that aims to support people fined for smuggling refugees into Denmark.
The collection for "honorary awards to people who have been or will be convicted and fined for acting decently and with humanity" was launched by Danish musician Benjamin Koppel, whose initial goal was to collect 22,500 kroner.
On the site, Koppel refers to the case of Lisbeth Zornig and her husband Mikael Rauno Lindholm who were last Friday convicted of smuggling refugees into Denmark and fined 22,500 kroner each.
Last September, Zornig and Lindholm gave a lift to a family from Syria and drove them several hundred kilometres across Denmark.
"It is utterly unacceptable that in today's Denmark people who are helping each other are being criminalised and those who offer their unselfish help are convicted as people smugglers," stated Koppel on caremaker.dk.
READ MORE: Over 100 people charged with human trafficking in Denmark
Illegal fundraising
However, the Danish Fundraising Board claims that Koppel's fundraising is illegal because he did not notify the agency at least 14 days before he started collecting the money as is required by law.
According to Jeanette Wulf-Andersen, the administration manager at the Danish Fundraising Board, fundraising initiatives have to be registered so that the board can verify and control them and donors can see that they are not fraudulent.