News
Historic building in Copenhagen ablaze
---
This article is more than 7 years old.
Holstein Mansion is currently being renovated and was empty at the time of the fire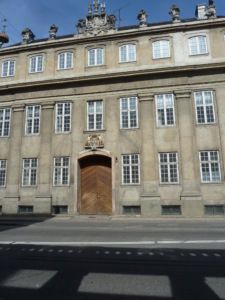 The city fire department is currently battling a fire at one of Copenhagen's historic buildings on Stormgade, just a stone's throw from the National Museum of Denmark.
The building ablaze, Holstein Mansion, was built between 1683 and 1687 and contains unique and protected apartments.
Because the building is being renovated, there were no people in the building at the time of the fire.
READ MORE: Fredericia fire was an environmental disaster
The fire department believes the fire began in the basement or on the ground floor. A number of neighbours have vacated their residencies to get away from the smoke.
The fire is located on Stormgade in between Vester Voldgade and Frederiksholms Kanal, a popular route into the city from Vesterbro, which is flanked on one side by pillars and a sheltered walkway that run alongside the museum.
Nørrebro fire last night
In related news, eight people were hospitalised last night following a fire in an apartment building at Lygten 3 in Nørrebro.
This morning, police technicians were investigating how the fire started.