Education
IB Program at ØIS: An opportunity to be successful and happy at school
---
This article is more than 7 years old.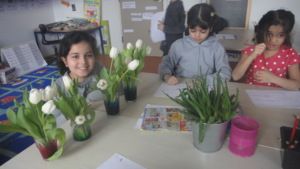 Østerbro International School (ØIS) has been recently authorised to offer the International Baccalaureate (IB) to children in its primary years program (PYP – ages 3-12), thus making it only the second school in Denmark to be fully IB-certified.
The Copenhagen Post Weekly has duly caught up with the head of the school, Nedzat Asanovski (NA), and the co-ordinators of the PYP, Elizabeth Toran (ET) and Stef Fleet (SF), to learn more about the benefits of the IB Program and the school's plans for the future.
ØIS has been recently fully authorised to offer the IB to all its students. What criteria did the school have to satisfy to pass the accreditation process?
ET: Throughout our two-year candidacy for the PYP, we aimed to adhere to very specific requirements set forth by the IB organisation. These requirements concentrate on the philosophy, organisation and curriculum as a means to improve the program as a whole. Following the candidacy period, we supplied documentation and evidence that all areas of the program had been implemented. A visiting team then came to the school to meet the management, teachers, students and parents, and it was very successful. Everyone has worked so hard, and we feel very proud of this long-awaited success.
How is the program going to impact on current students?
ET: The IB Program has already impacted on our school in a big way. The most valuable and visible aspect of the program is its focus on the student as a whole. The program attends to the fact that each learner is different. We can see the amazing impact this has on our students, as it gives all the students the opportunity to be successful and happy at school. The program teaches children to be open-minded, balanced and principled, and we can see this in practice in their everyday lives at school.
Do you expect more parents will be interested in enrolling their kids with øIS because it is now an IB World school?
NA: Families can find it difficult transitioning between primary, secondary and diploma levels if they have to move school. There can be school culture challenges, curriculum differences, changes in services and other factors. Because we are now authorised to offer the IB Program for every educational stage from the age of 3 to 18, parents can enrol their child knowing we are fully aligned to one educational program. The program creates clear pathways for students when they transition between divisions and connects strongly to other IB schools.
Do you have the capacity to accept more new students?
NA: Our school expands significantly each year, including an increase of 150 students last year when we moved to the new school location in Hellerup. We are still able to accept more students thanks to the larger, more modern facilities at the new building. We know that there is a shortage of international school placements in Copenhagen, and we want to help those new families.
What are the main benefits of offering the IB Program to children from the age of 3-4?
SF: Our pre-kindergarten program is an exciting new addition to the PYP division. These young children, guided by passionate, experienced teachers, are able to have a 'big school' experience with inquiry-based learning. The learning environment is heavily play-based, but also carefully guides them towards greater independence, critical thinking skills, and preparation for the rest of the PYP program.
Last summer ØIS moved to a bigger campus and opened a high school. How has this expansion reflected on the day-to-day life of the students and teachers?
SF: The children were extremely excited to settle into their new home! They are enjoying the more modern environment, larger rooms and larger playground. The teachers also seem very happy, and our collaborative approach ensures that we don't lose touch with each other. I get the sense that students and teachers managed to keep the 'togetherness' spirit when we moved, so I think that was the greatest success.
ØIS has come a long way since 2009 when the school first opened. What is your vision for the future?
NA: Our initial vision for the school was always to have three authorised, fully-fledged programs. Now that we have achieved that, we have new goals. We want to deeply explore what is 21st century education. We want teachers to continuously improve student achievement through inquiry-based learning. We want students to use technology effectively, healthily and purposefully. We want to adapt our curricula more deeply to local and global needs. Most importantly, we want to maintain our core values of trust and respect and look towards the ultimate signal of success: happy students.