News
Bendtner finished at Wolfsburg
---
This article is more than 7 years old.
'Lord' is free to look around for his next adventure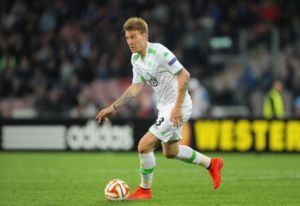 Nicklas Bendtner's nightmare at Bundesliga club Wolfsburg is finally coming to an end as the German club has agreed to give the controversial Dane free rein to find a new club.
Bendtner, 28, had landed himself in the Wolfsburg doghouse following a series of controversies in recent months, including showing up late for training twice, being in poor form and taking an Instagram photo of himself with a Mercedes (Volkswagen is the main sponsor and all employees must drive Volkswagens) on the way to training.
"The current situation is unsatisfactory for all and can not persist," said Wolfsburg sporting director Klaus Allofs. "For this reason we have on Wednesday met up again and discussed a solution with his advisers."
READ MORE: Niklas Bendtner not from the top shelf, claims new coach at Wolfsburg
Bright start … Lort finish
The Dane, who was dropped by new Denmark coach Aage Hareide for the recent friendlies against Iceland and Scotland, has been excused from training at the club and can find a new club for next season.
Bendtner, known affectionately as 'Lord' amongst football fans, and his agent have yet to negotiate a final severance package with the German club.
Bendtner managed four goals in 19 games for Wolfsburg this season, which started brightly for the Dane when he equalised against Bayern Munich in the 2015 DFL-Supercup, before scoring the winning penalty to clinch the trophy for Wolfsburg.