News
'Nightmare bacteria' spreading in Denmark
---
This article is more than 7 years old.
Researchers are calling drug-resistant infection the 'phantom menace'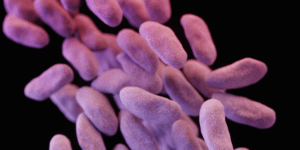 More people in Denmark are being infected with Carbapenem-resistant enterobacteriaceae (CRE), the most dangerous of all treatment-resistant bacteria, according to a new risk assessment by the European Union (EU).
Unlike other types of CRE, this latest version carries a plasmid – a mobile piece of DNA – with an enzyme that breaks down antibiotics. What makes these bacteria even more dangerous is their ability to transfer that plasmid – and that antibiotic resistance – to normal bacteria already present in our bodies.
This type of CRE has until now not been a frequent focus in tests, and it has largely escaped detection by health officials, prompting some researchers to dub it 'the phantom menace' and say it may be the final assault on antibiotics.
The 'nightmare bacteria' kills 30-75 percent of its victims.
Threat increasing
According to the risk assessment by the EU, the danger in Denmark has gone from a 'Stage one' danger to 'Stage four' on a scale of five in just five years.
The Statens Serum Institut has launched a more comprehensive reporting program for hospitals with the goal of slowing the spread of CRE.
"It is one of the most troubling bacteria in the world,"  professor and doctor Henrik Torkild Westh told Metroxpress. "It is correct to call it a 'nightmare bacteria' because it spreads easily and is a serious threat to survival – especially among the sick already in the hospital."
Westh said that CRE can result in death due to pneumonia and blood poisoning.
Not doing enough
CRE, which is called CPE in some countries, was barely present in Denmark as little as six years ago. Now the European health agency ECDC warns it is one of the highest risk areas in Europe.
"We are not doing enough," said Westh. "We need an antibiotics policy at a governmental level to reduce our use of antibiotics at both a personal and agricultural level."
Hygiene a key
Hans Jørn Kolmos, a professor of clinical microbiology at the University of Southern Denmark, agreed there is a need for a solid antibiotics policy to limit the spread of the drug-resistant bacteria.
"It's a threat we must take seriously, and it is important that we act now," he said.
READ MORE: Antibiotic use on Danish poultry farms doubles in two years
Kolmos also said that hygiene at the nation's hospitals needs to improve.
"Health professionals must be careful with their hand hygiene and have clean uniforms," he said.
"Hygiene in general must be in order, and the politicians must make sure there is funding for the hospital directors and employees to prioritise it every day."