Business & Education
A veritable region of otherworldly treasure, outdoor leisure and ornithological pleasure
---
This article is more than 7 years old.
The country's newest national park, Skjoldungelandet, is an archaeological hotspot that has been dubbed 'the cradle of Denmark'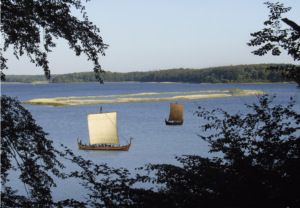 On 11 December 2012, Ida Auken, the environmental minister at the time, announced that eight years of effort campaigning had finally paid off for the councils of Roskilde, Lejre and Frederikssund, as Skjoldungelandet had been officially granted state approval to become Denmark's next national park.
The region − which encircles Roskilde Fjord and encompasses ancient glacial valleys, atmospheric marshland and royal hunting forests − was selected as much for its contribution to national history as for its landscape. Indeed, most of Denmark's significant archaeological finds of the last 30 years have been made in and around Lejre, a village of central importance to the Skjoldungelandet area.
The name Skjoldungelandet refers to the descendants of Chief Skjold, also known as the Scyldings, who are believed to have been a ruling family around the time of Harald Bluetooth, just prior to Denmark's conversion to Christianity. Some have even posited that the Scyldings were the first kings of Denmark.
Viking lore 
According to legend, King Skjold was the son of Odin, the supreme Viking god and ruler of Valhalla. While most historians have dismissed his existence as a myth, recent archaeological finds have added strength to those who believe Skjold did actually exist – and that he lived and ruled in Gammel Lejre, now nothing more than a small, sprawling village some 16 km west of Roskilde.
Lejre, which means 'camp' in English, was certainly a more important place 2,000 years ago than it is now. From the ancient standing stones to significant artefacts from the Bronze and Iron Ages and Viking times, archaeological digs in the area have unearthed plenty of evidence of its central role in Denmark's past.
Starting around 30 years ago, when archaeologists discovered the remains of several large Viking halls believed by their size to have belonged to a powerful elite, excavations have also revealed a burial ground marked by stone ships and, most spectacular of all, a tiny silver figure of Odin seated on his throne.
Treasures of Odin
The 2cm-high silver sculpture was discovered in 2009 inside the remains of a 50m-long Viking hall − the largest of its kind in Denmark. In incredible detail, the Viking god Odin is depicted sitting on his elaborate throne, Hildskjalf, which was said to give him magical powers that enabled him to see the entire world. On his shoulders are his two ravens, Hugin and Munin, who flew out every day into the world and returned home to tell him what they had seen – just in case the throne hadn't filled in him on absolutely everything.
Strange as it may seem, this is one of the few Viking era representations of Odin as ruler so far found; most images of Odin as the supreme ruler of Valhalla come from later depictions, modern-day comics or romantic Golden Age paintings. Now on display at Roskilde Museum, the recovery site of this figurine adds further weight to the theory that Lejre was a seat of ancient royalty, but it doesn't stop there.
In September 2012, a treasure trove was found near the village of Mannerup, near Osted. Named the 'Mannerupskatten', the haul consists of several kilos of silver in the form of around 1,500 objects including rings, coins and bullion. The Iron Age treasure is now on display at Roskilde Museum and is believed to date back to between 500 and 400 BC.
Feathery delight
Other major historical finds in the national park region include the remains of five Viking ships found in Roskilde Fjord in the 1960s, which formed the basis of the now world-famous Roskilde Viking Ship Museum.
Eagles were important to Vikings and ancient settlers in Scandinavia, perhaps even revered; it is fitting, then, that the area around Roskilde Fjord is also a reserve for the incredibly rare white-tailed sea eagles, who nest on the remote Bognæs peninsula that stretches in a north-eastern direction away from Sankt Hans Hospital.
A visit to Land of Legends Lejre, an open air museum in the form of an iron-age settlement, should invigorate even the most cynical visitor with an elixir of the area's special magic. On an autumn day, when the early morning mist still hangs eerily a few feet from the ground long after breakfast time, you could quite imagine Beowolf charging down from the other side of the hill.
Skjoldungelandet joins Denmark's three other national parks: Thy, Mols Bjerge and Wadden Sea. It is the first national park in Zealand, although Parliament is currently looking into Kongernes Nordsjælland in northern Zealand as a possible new national park.