News
Cost of beer going up at Smukfest
---
This article is more than 7 years old.
Switch to organic brew will hit guests at the Skanderborg festival in the pocket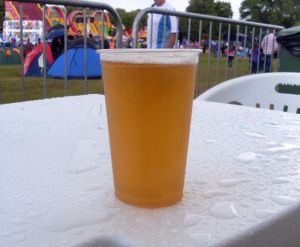 Beer sales at last year's Skanderborg festival – commonly know as 'Smukfest' – topped 180,000 litres. But the festival has decided that the beer flowing from this year's taps will be organic, and that will lead to an increase in the price.
"It's very simple," festival commercial head Flemming Dybbøl told Jyllands-Posten. "We want to give our guests the best, and we think organic is better."
Dybbøl said that the change fits in with the festival's philosophy of picking the best acts and best experience for its customers.
"We also decide what rum we sell," he said.
Organisers emphasised that the organic lager made by Royal was chosen based on taste. Just how much more expensive a glass of cold beer will be at Smukfest this year has not been decided, but last year 40 centilitres of blessed relief cost 40 kroner.
"Organic beer is more expensive, but it won't be that big a difference," Dybbøl said
To your good health
Royal would not give an estimate on the price difference between organic and traditional beer, saying it depended on the brand and whatever campaign was running at the moment. They did confirm that the production costs for organic beer are usually higher than for non-organic beer. Royal also said that Smukfest is its largest festival client for organic beer.
It will still be possible to buy traditional beer in bottles and cans at the festival's many stalls, but only the organic variety will be available on tap.