General
This Week's TV: Saddling up with the Sundance Kid
---
This article is more than 7 years old.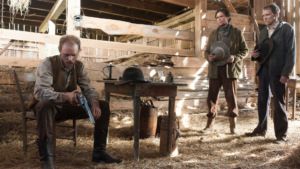 PICK OF THE WEEK:
The American West
SVT2, Sun 21:45
Robert Redford has always held an affinity with the American West partly thanks to his involvement in the likes of Butch Cassidy and the Sundance Kid, A River Runs Through It and The Horse Whisperer.
Bob's stagecoach love affair rumbles on in this eight-part series that explores some of the most renowned characters who roamed the rolling prairies and border towns during of one of America's most interesting and violent eras.
It offers unique insight into the unforgiving frontier mayhem prevalent following the Civil War and up until the West was ultimately won … or lost, depending on the viewpoint.
Each episode focuses on a legendary figure, from the lawman Wyatt Earp and notorious outlaws Jesse James and Billy the Kid to the blood-thirsty General Custer and the heart-wrenching demise of Native American leaders Sitting Bull and Crazy Horse. (CW)
---
ALSO NEW:
There was no escaping Pablo Escobar in Colombia during the 1980s, and now there's no way to avoid him on the telly with countless series documenting the depressing details of his life – maybe he was ahead of his time and better suited to a life in pre-crash Wall Street or post-Brexit Britain?
Leading the way this week (is it his birthday? we hope not, DR) is The Two Escobars (DR2, Fri 23:05), "a riveting examination of the intersection of sports, crime, and politics" according to the LA Film Festival that juxtaposes his life with the unfortunate defender murdered for scoring an own goal at the 1994 World Cup.
The 2010 doc Pablo's Hippos (DR2, Thu 23:05) then completes the overview of the absurdity of this man's life. It makes Lance Armstrong's look blameless in Stop at Nothing (DR2, Tue 20:45).
Elsewhere, we've got S2 of Happy Valley (SVT1, Mon 21:00) and Indian Summers (SVT1, Sat 21:35); the premiere of Dennis Leary's drama series Sex&Drugs&Rock&Roll (all week on 3+ from Thu 30 June, 00:50) expected a few arched eyebrows as Basil nearly Eighty digests Danish humour in Jan Gintberg meets John Cleese (DRK, Fri 19:25); How the rich live longer (DR2, Mon 20:45) will make you rethink your daily fry-up; and The Murder Detectives (DR2, Mon-Thu 23:05) is a gripping doc series. (BH)
---
COMING SOON: Thirteen
No, this isn't some fumble behind the bikeshed involving girls who should still be playing with their Barbie.
The protagonist is a 26-year-old snatched as a teenager who was denied a normal development. With 71 on Metacritic, the critics were impressed with this British miniseries – or at least in the US!
"Jodie Comer's performance – as a 26-year-old stunted as a 13-year-old – is beautiful," praised the Boston Herald.
"She can be endearing, mystifying and aggravating, sometimes in the same moment. She'll keep you coming back to a mystery that grows darker with every revelation." (BH)
---
SPORT OF THE WEEK: Tour de France
Bagsy the armchair for the Tour de France (TV2, all week from Sat 12:10), timed every year to coincide with the start of the Danish working man's holidays. Wimbledon and Euro 2016, meanwhile, are reaching the business end, heading into the quarter-finals (Tue & Wed 13:00, women's and men's; Thu-Sun 21:00) and then the semis respectively (Thu & Fri 13:00; Wed & Thu 21:00). (BH)
---
FILM OF THE WEEK: Snowpiercer
With the Euros still going strong, A Case of You (TV3, Fri 23:15), Admission (TV3, Fri 21:00) and Extract (DR3, Sat 20:50) should tick the footy-abhorring, romcom-hoarding brigade. But for an unexpected buzz, climb on board Snowpiercer (DR3, Thu 21:45), while The Secret Life of Walter Mitty (TV3, Sun 21:00) is a safe bet for a well-arced journey, even if it is somewhat predictable. (BH)