Things to do
Film review of 'Virgin Mountain'
---
This article is more than 7 years old.
A good ride, if slightly rough at times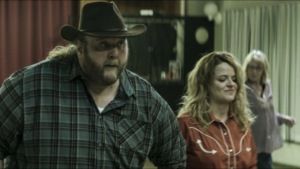 Comedian Gunnar Jónsson's face is the best reason to see Virgin Mountain. Fúsi (Jónsson) is a giant hulk of man with sloping shoulders who manages to do almost nothing while communicating everything – he wears a permanent mask of equal parts hapless bewilderment and melancholic resignation. He's an unassuming presence who's easy to love and selfless to a fault.
Not a 'fuser'
Fúsi is in his mid-forties. He's bullied at his workplace, the baggage department at the local airport, and still lives with his mother who, despite being in her late sixties, is getting more action in the sack than Fúsi has ever done. Although never stated explicitly, it is strongly implied (along with the English title) that Fúsi is a virgin. He fills his spare time re-enacting famous battles of WWII with small scale models in a friend's garage. The monotony of this overcast, desaturated existence is broken when one stormy evening, Fúsi is coerced into trying a line dancing class by his mother's lover. A death metal fan, Fúsi bottles at the last minute, but not before he meets Sjöfn (Kristjánsdóttir) who asks for a lift home to avoid the blizzard.
Lonely and misunderstood
Like a contemporary Frankenstein's monster, whenever Fúsi forms anything approaching a meaningful relationship, it is doomed to fail – partly because, despite his mighty size, he is meek of nature and extremely thin-skinned. Like director Dagur Kari's earlier film Noi Albinoi, the film ably demonstrates how someone who lacks certain defence mechanisms and lives outside of societal norms will always have their intentions misread and misunderstood. A society projects their ills onto that which they can't easily categorise, thus creating a depository for their fears. Fúsi's innocent friendship with a little girl, who lives in the same apartment building, echoes the scene from James Whale's 1931 classic Frankenstein in which the childlike monster befriends a playful young girl before drowning her from fear and confusion.
Rough around the edges
All of this may sound, more depressing than delightful but thanks to a delicate balance of the two, the latter is clearly Kari's intention. For the most part, he succeeds. There is much joy to be had in Jónsson's portrayal of Fúsi and particularly his early meeting with Sjöfn in which good use is made of Dolly Parton's 'Islands In A Stream'. And yet, while Jónsson delivers a beautifully nuanced and understated performance, the plot mechanisms are sometimes clumsy and the dialogue, a little too on the nose. Fúsi's bullying workmates are afforded little in the way of characterisation, amounting to little more than a collective menace, with the extent of their meanness being too caricatured to be convincing. If things appear to be going well for Fúsi, you can easily predict the narrative gear shift meaning his fortune will inevitably nosedive.
Echoes of Jarmusch
Ostensibly, Kari has crafted a funny, moving and perfectly likeable package that champions kindness tempered by self-respect. By placing the comedian Jónsson at the centre, he employs a similar tactic to Jim Jarmusch who cast the comedic talents of Bill Murray in his drama, Broken Flowers. Both films are slight in their narrative complexity, relying heavily on the unusual magnetism of their leads. However, the quiet miracle of Jónsson's soulful performance and the film's obviously sweet-natured intentions are undermined by the film's attempt at harder edges – too often they register as simplistic and contrived.