News
Pione Sisto heading for Spain
---
This article is more than 7 years old.
FC Midtjylland has agreed terms with Celta Vigo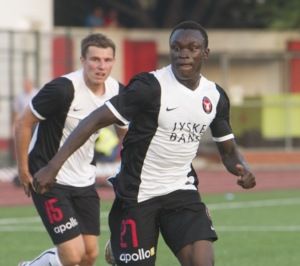 One of Denmark's top young players, Pione Sisto, will be plying his trade in Spain's La Liga from now on.
Superliga club FC Midtjylland announced on Sunday that the tricky Ugandan-born winger had been sold to Celta Vigo for an undisclosed sum.
"It's another great moment for our talent development department," said the club's sporting director, Claus Steinlein.
"We are really proud of the deal. The academy has once again proven its worth. Pione is a local kid from Tjørring who we have now sold to a large club abroad. It's a testament to local club co-operation, the academy and the first squad."
Sisto, 21, scored 20 goals in his 90 games for FCM and will link up with another Dane at Celta, Daniel Wass.