News
Øresund Bridge to be repainted
---
This article is more than 7 years old.
Refurbishment of the bridge between Denmark and Sweden will take nearly 15 years to complete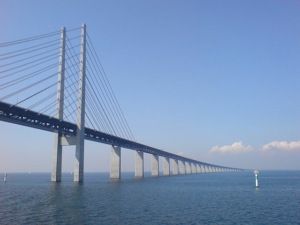 The Øresund Bridge between Denmark and Sweden is long overdue a new coat of paint – or two.
Standing in the Scandinavian elements since opening 16 years ago, the steel on the Øresund Bridge – the longest combined road and rail bridge in Europe – needs to be painted to combat corrosion.
Some 300,000 square metres of steel will get two coats of paint, starting in 2019. And the job will not be finished until 2032.
Butts in the wind
The company that operates the bridge said the paint currently on the bridge is "in relatively good condition", so they won't be scraping off any old layers, just putting two fresh layers on top.
The workers painting the bridge will perform the job in all types of weather while the busy crossing is open with trains and passenger vehicles blowing by.
READ MORE: Ferries: Øresund Bridge receives illegal subsidy
The Øresund Bridge is recognised around the world by fans of the TV program 'The Bridge', which features Danish and Swedish cops joining forces to fight crime on both sides of the Sound.