News
Welcome to Dick … Sperm … Hell
---
This article is more than 7 years old.
Danish towns with funny names have a hard time holding on to their signs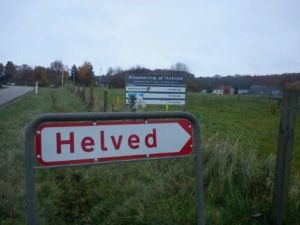 Small Danish towns often have, well, interesting names.
There's the town of Lem. A pleasant little village whose name is also a Danish slang term for a specific part of the male anatomy.
There's Sæd. Whose name also means 'sperm'.
And, if you want to tell someone to "go to hell" in Denmark, it actually exists. 'Helved', which is close to the Danish word for hell, is a small farming town in southern Jutland.
Sign of the times
The problem for these villages is that people sometimes have a hard time finding them, because crooks keep snatching the town signs, probably thinking it is the pinnacle of humour to have a sign that translates as 'intestines' (Tarm) on their wall.
"The signs disappear periodically," Christian Kjær Andersen from Roads and Parks in Tønder told DR Nyheder.  "There is probably someone who thinks that the double meaning of the word makes it fun to have the sign hanging at home."
"Got another order for a 'Dick' sign, Flemming"
Saferoad Daluiso, is the largest supplier of signs in Denmark, and the company has noticed that local authorities order certain signs more often than others.
"Signs with funny names are ordered more often," said Saferoad Daluiso managing director Gregers Münter. "Sometimes we aren't sure why we are resending a sign that we've just sent out."
Andersen said it's hard to figure out how to secure the signs better.
"These days, almost everyone has access to battery-powered power tools, so it is almost impossible."