Things to do
Theatre Review: Shakespeare in the Sixties swounds more than swings
---
This article is more than 7 years old.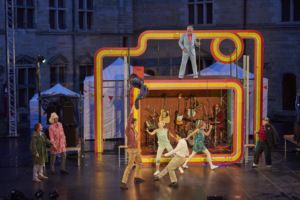 This year not only marks the 400th anniversary of Shakespeare's death, but also the 200th anniversary of the tradition of performing Shakespeare at Kronborg, also known as Hamlet's Castle.
To celebrate, Hamletscenen has organised three weeks of shows, one of which is a production of The Two Gentlemen of Verona performed by Shakespeare's Globe.
After watching the production, I asked myself: would I watch it again? The answer, unfortunately, was no. And it had little to do with the rain and biting wind we had to sit through during the performance.
I tried to like it, I really did. The audience members seemed to enjoy themselves. The actors' energy was palpable and, as they danced to the twang of the electric guitar (more on that later), their enthusiasm was contagious.
But I had to keep reminding myself that the production was supposed to be Shakespearean. Whilst the individual elements of the play were entertaining, on the whole it was – as Shakespeare might have said – neither hither nor tither.
About that electric guitar
Imagine this: a man in a blue suit and striped shirt, hair slicked back, wearing a pair of round sunglasses. He struts up … only to speak in iambic pentameter.
Actors appear donned in miniskirts and bold patterns, writing love notes on vinyl records and singing Shakespeare's sonnets as folk rock songs.
It's a surprise. Like many of Shakespeare's works, The Two Gentlemen of Verona is all about love: falling in and out of it, pining for it, fighting for it. Director Nick Bagnall's decision to set this production in the late 1960s adds freshness to an age-old story.
But after the surprise element wears off, the clothes clash with the lyrical language, and the bright orange set contrasts too much with the surrounding Hamlet Castle.
Beatles aren't the new Bard
There are moments of engagement within the performance: the crowd frequently laughed, for instance watching Launce (Charlotte Mills) hand two members of the audience her shoes, or Fred Thomas' deadpan impression of Crab the dog. Likewise, the songnets were well composed, appropriately touching and hilarious.
The actors' use of space and crisp give-and-take also transformed the stage into another world (and helped forget the rain), but overall, it was one that couldn't decide between 16th century Italy and 1960s Britain.
I didn't go into this expecting a traditional Elizabethan theatre performance, thrust stage and all, and I admired the company's efforts to create something new with Shakespeare's original. But ultimately, a '60s Shakespeare was not for me.
However, I'd still recommend you watch it if you want to see Shakespeare in a new (albeit slightly faint) light.