News
The dark secret Darth Vader kept from his Death Star employers – Danish report
---
This article is more than 7 years old.
Poor mentorship the most probable cause of his heavy breathing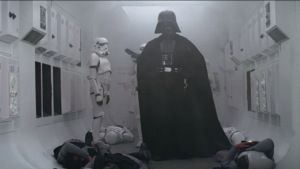 The test results are back. Luke Skywalker and Darth Vader await anxiously. Two doctors from Rigshospitalet and Frederiksberg Hospital enter the room. It's just as they feared! Darth Vader has got bronchitis!
It was whilst studying lung physiology that Ronni Plovsing and Ronan Berg, medical students and Star Wars fans, thought it might be fun to diagnose the heavy breathing of one of film's greatest villains.
Let down by those around him
According to their study, it is likely that Darth Vader first suffered an acute lung failure – being left to smoulder and inhale volcanic fumes on a bed of larva by his mentor would do the trick.
Poor medical treatment – shoving a mask over his face and hoping for the best – led to a chronic lung disease from which he was given no time to recover by an employer, The Emperor, hell-bent on building the ultimate weapon.
A stiffening of the lungs
"I have as long as I can remember been fascinated by him – particularly his breathing," Berg, who is a researcher in lung physiology at the Department of Clinical Physiology and Nuclear Medicine at Frederiksberg Hospital, told Videnskab.dk.
"A shrinkage of the lungs led to them becoming much stiffer due to severe scarring of the lung tissue, leading to a chronic inflammation of the airways and bronchitis."