General
CIS graduates score highly in IB exams
---
This article is more than 7 years old.
Some studied 10 hours daily to prepare for the challenging tests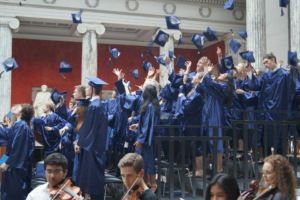 Graduate students from Copenhagen International School (CIS) scored highly in the 2016 International Baccalaureate Diploma exams, with three of them achieving 44 points out of a possible 45.
Thanks to their astonishing results, Victor Eibeholm and twins Ingrid and Cecilia Bergendahl placed among the top 1 percent of the 100,000 students who sat the tough exams worldwide.
READ MORE: The CIS graduate whose scores have spiked to maximum effect
Above global pass rate
But such a great achievement did not come easily as Eibeholm explained.
"A group of us got together to prepare for the exams and we really buckled down," he said. "We got up early, went to the gym and then worked for 10 hours a day. We only broke for lunch and dinner and then we went straight to bed."
Of the 65 CIS graduates, some 93 percent passed the IB tests this year, which is 13 percent above the global pass rate.
Nine received 40 points and 21 scored 36 points or above.
Many of the graduates will be taking a break from their studies, while others will this autumn start courses at universities in the UK, Germany, Australia, Canada and the US.
READ MORE: Copenhagen International School students head abroad
Broaden horizons
Eibeholm will soon start a business studies course at the London School of Economics.
"My years at Copenhagen International School have really expanded my horizons. I used to be very ingrained in Danish culture and I never thought about studying abroad, but then my family and I moved to Finland when I was nine and when we returned to Denmark some seven years later, I wanted to continue my education at an international school. So I chose CIS," Eibeholm clarified.
"I'm not at all worried about going to university in London. It feels natural to me and I can't wait to make new friends in England."
READ MORE: School of the future, pride of the city
Gap year in Africa
The Bergendahl sisters have also decided to pursue a career in business, but unlike Eibeholm, they are taking a gap year to do volunteer work in Malawi and South Africa.
"At an international school like CIS you are surrounded by people from so many different cultures and so many different backgrounds. It's such a diverse environment and you get such a broad outlook on life," Cecilia Bergendahl said.
"Being involved in Team Peru was such a huge and wonderful part of my high school experience. Not only because it was exciting but also because it was an important learning experience for me – and also a chance to build an even closer relationship with my teachers and fellow students."
READ MORE: Running the world with CIS
Self-reliant and organised
Her sister Ingrid was also greatly affected by the trip to Peru, which has inspired her to "try something completely different from her normal life in Copenhagen" and travel to South Africa to volunteer at a wildlife reserve.
She is also grateful for her teachers' friendly and open approach to education, which has helped her learn to take initiative for herself and become more self-reliant and organised.
"I realised that I was at school for my own sake, not to please my teachers."