News
It's raining Danish medals in Rio
---
This article is more than 7 years old.
There was drama all over as Denmark scooped up four medals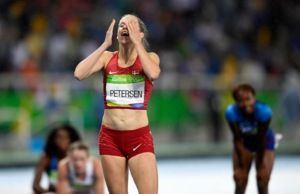 The number 13 may be considered unlucky for some. But not for the Danes in Rio.
In what could perhaps be described as the best single day in Danish Olympic history, Denmark won a total of four medals yesterday during the games' 13th day to reach 13 medals overall.
And the battles to get them included everything but a gold medal. A surprise youngster, a heartbreaking final loss, a close finish and Denmark's first Olympic track medal since 2004 in Athens.
Success on the water
It started off with a Danish surprise in the women's 500 m kayak as Emma Aastrand Jørgensen claimed a highly unexpected silver medal with a photo-finish to add to the drama.
Jena Mai Hansen and Katja Salskov-Iversen then took the bronze in the sailing in the women's 49er FX, pipping Spain to the last medal.
Agony on the court
Christinna Pedersen and Kamilla Rytter-Juhl then came tantalisingly close to winning Denmark's second gold medal in the women's badminton doubles final.
But despite leading 19-16 in the third and deciding set, their Japanese foes came back to win 19-21. It was brutal.
A mere two points from a gold medal. Still, more silverware for Denmark.
READ MORE: Denmark among leading per capita medal winners in Rio
History on the track
That disappointment hung for a while, but when Sara Slott Petersen appeared on the track for the women's 400 m hurdles, all the negative vibes fluttered away.
Finishing in a new personal best time of 53:55 seconds, Petersen became the first Danish woman to ever win an Olympic medal in track, winning the silver.
Is 15 a possibility?
With it's 13-medal haul so far, Denmark has well surpassed its 10-medal expectations with its second-highest total in history, only beaten by the 20 won at  the 1948 London Olympics.
Reaching 20 will be a stretch, but with semi-finals in the handball and badminton still to go, as well as the having a favourite in the mountain bike, the Danes could very well scrape another two or three in the home stretch.