Activities
At Cinemas: Rednecks installing net to downscore unreleased film at breakneck speed
---
This article is more than 7 years old.
Previewing all the new cinema releases (Sep 22-Oct 6)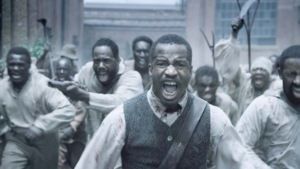 The black-lash is coming for the Oscars. After two years of zero acting nominations for African-American performers, Jada Smith and Spike Lee led a boycott last year of a ceremony neither are likely to honour with a winner's acceptance speech.
READ MORE: Inside this month: And we could run it with footage of him killing Zulus!
185 years of no progress
The real crime is how ignored other ethnic groups are (although director Alejandro González Iñárritu is single-handedly doing his best to address the Hispanic ratio) as The Economist reported earlier this year that black actors have actually been over-represented in the nominations, and particularly the number of wins, this century.
And the odds of them adding to that tally are getting shorter by the minute, with The Birth of a Nation, a retelling of the slave revolt led by preacher Nat Turner in 1831, now a 5/1 second favourite. To give you an idea of the problem in America, ahead of its October 7 release in the US, 39.1 percent of its votes (674) give it zero on IMDB and 32.7 percent give it 10! The events took place 185 years ago – that's 13 generations ago amongst rednecks.
Also in the running is Loving (9/1), an interracial relationship tale about a couple sent to prison in 1958 for getting married, which might sound unsubstantial compared to Schindler's List, but not for example Annie Hall.
READ MORE: Turning up to the Oscars for more than the minor gongs
The bowels have broken
With less chance of winning than Big Momma's House is When the Bough Breaks (released Sep 22; Metacritic: 28), an all-black cast tale of a surrogate turned stalker. It really makes you question the wisdom of the film distributors, Universal in this case, when US rubbish like this is shown in Denmark, but so much quality from Britain is overlooked.
Good examples in recent years include Neds, Control, In Bruges and Ex Machina – which all took an extremely long time to get a release here – while Layer Cake, Cemetry Junction and The Damned United failed to make it altogether.
They are a group of films that on paper look like they might provide an effortless continuity link to introducing The Magnificent Seven (Sep 22; Not Released Yet), this issue's most keenly anticipated release, but it's eluding me somehow. The remake of a remake of a remake pits seven gunslingers against … oh come on, is there seriously anyone out there who didn't spend Saturday afternoon wishing they were Steve McQueen or Yul Bruyner or … well any of them, but maybe not Brad Gilbert.
Oldies not always best
Snowden (Sep 29, 61) likewise needs a plot synopsis less than The Bible, although there will be some Brits disappointed it's not a biopic on Princess Margaret's husband. While Joseph Gordon-Levitt gives a solid performance in the lead, Oliver Stone, who turned 70 on September 15, hasn't made a decent film this century, and his frustrating form continues here, concur most critics.
Age shouldn't be an issue, but it tends to make you more erratic. Woody Allen is 80 years young and continues to churn out movies like they were music videos. Café Society (Oct 6, 64) is a return to the standards displayed in Midnight in Paris and Blue Jasmine. Jesse Eisenberg might very well be the best yet embodiment of the Allen persona perfected in films like Manhattan and the aforementioned Annie Hall – even better than Allen himself.
Best of the rest
Also out at the cinema over the next three weeks are BP oil spill retelling Deepwater Horizon (Sep 29, 64) starring Mark Wahlberg, Tim Burton's highly-anticipated children's adventure Miss Peregrine's Home for Peculiar Children (Sep 29, NRY); Ron Howard's fab four doc The Beatles: Eight Days a Week – The Touring Years (Sep 29, 70) and baby-delivering animation Storks (Oct 6, NRY).
Talking of baby carriages, there's a chance to see the 1925 classic Russian film Battleship Potemkin (Sep 29, Vester Vov Vov). You might remember that Brian De Palma paid a slow-mo homage to its classic pram scene in his 1987 film The Untouchables.
While over at Cinemateket, there's a Laurel and Hardy season and Danish on a Sunday continues with Mads Matthiesen's The Model (Oct 16, 14:15).
Back in the mix
Also with English subtitles are most of the films being shown as part of the LGBT festival Copenhagen Mix at Cinemateket (check out the full program at dfi.dk).
These are the films that have scored over 7.5 on IMDB – Check it (Oct 5, 17:15), Finding Phong (Oct 5, 17:15), Reel in the Closet (Oct 1, 19:00 & Oct 4, 19:00), Don't Look at Me That Way (Oct 2, 16:30), Je ne suis pas féministe, mais … (Oct 9, 17:30), Closet Monster (Oct 4, 17:00), Thanatos, Drunk (Oct 4, 21:30), The Same Difference (Oct 4, 21:00 & Oct 8, 19:00), Southwest of Salem: The Story of the San Antonio Four (Oct 6, 19:00), Major! (Oct 9, 17:00) and Scrum (Oct 1, 15:00) – which is pretty good going when you consider all the zeros they got from Deep South America!