Performances
Performance Review: Rousing 'Oliver!' proves that blondes do have more fun
---
This article is more than 7 years old.
Performances all week at MusikTeatret Albertslund
Oliver Twist is blond, right? It's written in the Bill of Rights somewhere. But the Artful Dodger and Bill Sykes? That's going too far, surely?
Well, that's exactly what this Danish-language version of 'Oliver!' at MusikTeatret Albertslund (every day at 3 pm over the half-term break) did. It surpassed all expectations and knocked one out of the park.
Likeable in any language
The international and Danish families I chatted to afterwards were in agreement that this was every bit as good as any version they'd seen, and in the case of the non-Danish speakers, it didn't pose any problems following along, although some of the dishes mentioned in 'Food Glorious Food' raised a few eyebrows!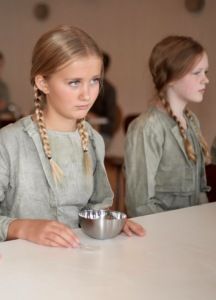 Overall, the audience enjoyed a rousing performance served by a creative set, endearing choreography, imaginative direction and some standout singing.
"We all enjoyed it: it was amazing that they delivered a truly professional piece with mostly amateurs actors," said Liselotte Deans, who was in attendance with her Scottish husband and British-Danish children.
"We would very much recommend people of all nationalities to go and enjoy the show. It might be a bit tough if you do not know the story and don't speak Danish, but it's the same with opera, and we still enjoy that!"
Lionel's ultimate musical
No childhood is complete without a few servings of 'Oliver!' – a character that literally never gets old. After all, how many classic tales begin and end with the protagonist still in short trousers? Kids sympathise with his parentless situation and vulnerability, rooting for him to find happiness.
There aren't many musicals that are both composed and worded by the same man – and many contend it is this individual approach that sets apart Lionel Bart's creation as the best of all time. And to think he couldn't even read or write music!
Strong ensemble
With a cast of 40, director Russell Collins, the co-founder of Scene Kunst Skoler, has made admirable use of his ensemble (and his students!). John Wrensted Olsen, for example, portrays Mr Bumble, the knife grinder in the 'Who will buy' sequence, and Percy Snodgrass who would often have the odd glass, while Søren Vadmand takes on both Mr Sowerberry and Mr Brownlow.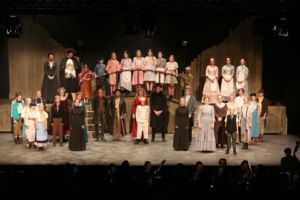 It was occasionally distracting to note the same actor in a different role, but with the same body language. Noel Claypole with his hair-flicking and casual demeanour, for example, was great fun, but what was he doing prancing about outside Brownlow's abode? (In the original, he does actually come to London!) And why was Widow Corney down the pub?
With the majority though – for example, Fagin's boys (and girls), where it was hard to know where to look, such was the quality – the result was tireless endeavour and dedication to the craft.
Star of the show?
The cast were encouraged to play to their strengths. Daniel Bisgaard Thomsen as Dodger was not the best of singers, but an accomplished ringmaster. His orchestration of 'Consider Yourself', of which he sang only the first two lines, was exceptional. Bet was also given a chance to shine with verses in 'Oom-Pah-Pah' and 'It's a Fine Life'.
Asked to name the star of the show would be tricky. While the roles of Fagin (Rene Wormack, who really brought meaning to his lyrics) and Nancy (Christina Anthony delivering the knockout moments of the night) traditionally contest this with young Oliver and Dodger, on this occasion there was a surprising contender: Bill Sykes (Jakob Svensmark).
Served by a menacing score, effective backstage characters silhouettes to convey off-stage action, and a quite chilling performance of 'My name', he very nearly stole the show, although the jeopardy quotient lowered every time he removed his hat.
Rightly the director's night
Overall, this night belonged to Collins, his choreographer Malin Astor and singing instructor Anne Smaakjaer. They breathed new life into some of the weaker numbers – 'That's your funeral' for example – and employed a box of tricks that included stop-motion and a curious street square human statue.
Collins is rightly proud of his nine-piece orchestra. They set the tempo from the foot of the stage – whether it was the 'second character' clarinet in 'Reviewing the Situation' or the single-chord urgency of the keyboard – to complete a musically-rich, unforgettable performance.