News
Polar bear Vilma suddenly dies at Aalborg Zoo
---
This article is more than 7 years old.
Zoo is awaiting autopsy results to learn the cause of her death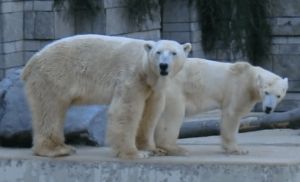 Polar bear Vilma died suddenly at the age of 14 at Aalborg Zoo on Wednesday afternoon – only two weeks after she was transferred there from Rostock in Germany.
Her unexpected death is a big mystery to the zoo staff, who are now waiting for a medical report.
"We are shocked. We did not expect that she would only spend 14 days with us," Rikke Kruse, a zoologist at Aalborg Zoo, told DR.
"The whole process, from the moment we noticed she was not feeling well until her last breath, went incredibly fast."
READ MORE: Copenhagen Zoo has a polar bear problem
Too short reunion
Vilma was transported to Aalborg because of renovation works at Rostock Zoo. It gave her the chance to reunite with Lars, the father of their two cubs Anori and Fiete.
Although the move went well, yesterday morning she suddenly became lethargic and had difficulty moving. Then her condition deteriorated rapidly and she died within a few hours.
Vilma was born in December 2002 and was one of six cubs born at Rostock Zoo whose names began with a 'V'. The others were called Victoria, Victor, Vitus, Venus and Valeska.
Copenhagen Zoo, meanwhile, has recently reported having issues with their polar bears, who were displaying concerning anti-social behaviour.