News
Denmark looking into building North Sea wind energy island
---
This article is more than 6 years old.
Innovative plan in collaboration with Germany and the Netherlands could provide energy to 80 million Europeans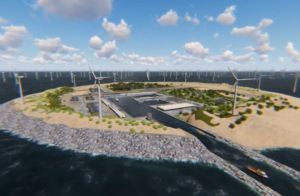 Denmark has teamed up with Germany and the Netherlands to look into the possibility of building an island in the North Sea to locate wind turbines in the future.
The artificial island, which will include a harbour and a landing strip for aircraft, is proposed to be six square kilometres in size and be located on Dogger Bank, a large sandbank in a shallow area about 100 km off the east coast of the UK.
"We haven't let our fantasy gain the upper hand, although it may sound a little crazy and like something out of science fiction," said Torben Glar Nielsen, the technical head of national energy provider Energinet.dk.
"We who have the responsibility of transporting the electricity generated by offshore wind turbines back to land and the consumers must constantly push and make sure that the price continues to fall. That requires innovative big-scale solutions, and an energy hub in the North Sea is worth thoroughly looking into."
READ MORE: World Bank: Denmark top for green energy
Millions could benefit
The national energy transmission companies of the three nations involved will sign an agreement on March 23 that looks into the opportunities of the island.
Just establishing an island at Dogger Bank from stone and sand is expected to cost over 10 billion kroner, and that's without the cost associated with the estimated 7,000 wind turbines planned to be erected there.
But however costly the plan, the benefits of one or more of these islands could ultimately provide energy to 80 million European consumers.