General
CPH:DOX review: 'The European'
---
This article is more than 6 years old.
Accompany Frans Timmermans in his life as first vice president of the European Commission.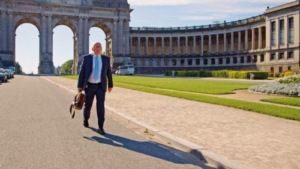 If you are interested in diplomacy and international co-operation, then don't miss this documentary. It gives you a deep insight into the life and work of an EU official during these momentous times of the Refugee Crisis, populism and the Brexit referendum.
The European is an honest portrait of the first vice president of the European Commission, Frans Timmermans, and it covers the two-year time period between his appointment in 2014 and the Brexit vote in 2016.
The documentary shows what it is like to be a problem-solver, a person of authority and a father at the same time, and it reveals a great mixture of politics and emotions. The honesty of the documentary is astonishing and touching, so this is definitely worth seeing!
While critics and supporters of the EU will be interested in this film, every European should be, as it helps to explains some of the processes and bureaucratic decisions going on behind the scenes.
In general, this documentary offers various information about the EU, as well as the schedule of a EU politician in an honest and also fun way – don't miss it!