News
World's smallest hotel is in Copenhagen
---
This article is more than 6 years old.
The only room in the minuscule Vesterbro joint is just 2.3×3 metres in size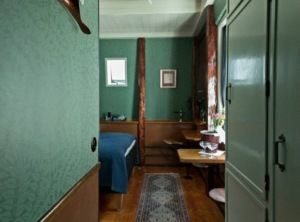 If you're looking to book a room (or 'the' room actually) at Hotel Central in Copenhagen, you'd best ensure no one in your party suffers from claustrophobia.
Located in the capital's Vesterbro district, the hotel only has one room, and at a Spartan 2.5 by 3 metres, you can just squeeze and couple of people and their bags in there. According to the world records union WorldKings, it's the smallest hotel in the world.
"The room is not suitable for families since the limited space simply doesn't allow for extra beds," the hotel writes online.
READ MORE: Danish butler startup riding high on the coattails of Airbnb
A cobbler's lore
But despite the limited space, somehow the room also includes a shower, a mini bar, a flat screen television that can be hidden away and a stereo where you can connect your iPhone. There are also two bicycles available, but they are kept elsewhere.
What's more is that upon awaking from your night's slumber, you can meander downstairs for a coffee and breakfast in what must be one of the city's tiniest cafes.
And while the hotel itself is tiny, the price for the experience is less so, coming in at 2,100 kroner per night (breakfast included). And while the cafe only has room for five people, guests are guaranteed a spot.
Located on Tullinsgade 1 (just off Gammel Kongevej), the building itself is over 100 years old and was originally a cobbler's shop with a small flat above. In 2011, it was purchased by Leif Thingtved and Jacob Kampp, who then turned it into the quaintest of hotels.