News
Stormy weather on the way on Friday
---
This article is more than 6 years old.
The frosty, clear mornings of the last few days are expected to give way to a period of high winds across the country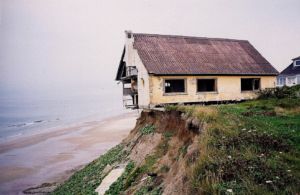 On Friday, Denmark could be battered by storm-force winds, according to Thomas Mørk, a meteorologist at TV2.
The country will be squeezed between a low pressure area over northern Scandinavia and a high pressure system over the British Isles.
READ ALSO: Storm-force winds thrashing Denmark today
Friday afternoon is expected to be especially windy compared to the last couple of days, and the windy weather will continue into early Saturday.
Worst-hit in Jutland
Once again, the people of northern Jutland will bear the brunt of the winds, when the weather system rounds southern Norway on Friday afternoon and moves into the Skagerrak.
Moderate gale-force winds will hit the coast between Skagen and Hanstholm, with a risk of storm-force gusts – 11 on the Beaufort Scale, just below the speed of a hurricane. It will then be windy all over northern Jutland –including Thy, Mors, Hanherred, Vendsyssel and northern Himmerlnd – with severe gale-force winds expected.
More on the way perhaps
The winds are expected to move across the country so that Anholt, north and northwest Zealand and the area around Bornholm could also experience severe gales during the evening and Friday night.
The windy weather is coming to Denmark on the southern edge of a deep low-pressure area moving across northern Scandinavia. It is expected to die down up on Sunday, but another spell of windy weather might hit Denmark on Sunday night.