News
US warns Denmark over Russian gas pipeline
---
This article is more than 6 years old.
Danes caught between rock and a hard place on Nord Stream 2 issue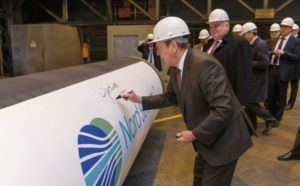 As the Danish government entertains the prospective of permitting the Nord Stream 2 gas pipeline from being laid through Danish waters in the Baltic Sea, the US has now brought its misgivings to the table.
Robin Dunnigan, the US deputy assistant secretary for energy diplomacy, told Berlingske newspaper that the US hopes Denmark will reject the pipeline as she feels important NATO nations, such as Germany, are already too dependent on Russian gas.
"It doesn't make any sense to go through with this project now, as there are so many other alternatives on the table," Dunnigan told Berlingske.
"It also doesn't match the EU's own declared energy targets. So it's better to focus on a number of other projects to secure other supply lines for natural gas."
READ MORE: Russian gas pipeline splits Parliament
Calling for EU help
According to Dunnigan, one of the problems with accepting Russian gas, is that the Kremlin has been known to use the gas supply as leverage to exert political pressure on other countries.
In Denmark, the politicians are split on the paramount issue, which the government hopes will ultimately be decided by the EU.
"This is not just a national decision for Denmark," the energy minister, Lars Christian Lilleholt, told Ritzau last month.
"This has security and foreign policy ramifications, and it does so in a European context."