News
Baby elephant born in CPH Zoo
---
This article is more than 6 years old.
Kungrao gave birth early this morning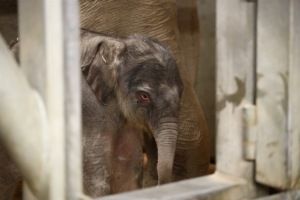 Tourists and locals flocking to the Copenhagen Zoo this summer can look forward to seeing a new addition following the news that a baby elephant was born in the early hours today.
The resident female elephant Kungrao gave birth to a little male at around 04:24 this morning, who was quick to find his footing and greet the zookeepers as they turned up for work today.
"We really want him to start to suckle straight away so we have let all three elephants out in the back of the enclosure," said Bengt Holst, the zoo's scientific head.
"It's calmer there and there is less room to run around, so it's easier for the two females to help him get to the teat."
READ MORE: No reprieve for zoo's venerable elephant house
Up and about
Holst said that he hopes that the new addition begins nursing strongly over the course of the day so the two females can be released to an expectant public.
Catch an early glimpse of the new little fella in the video below.