General
Who is … Peter Aalbæk?
---
This article is more than 6 years old.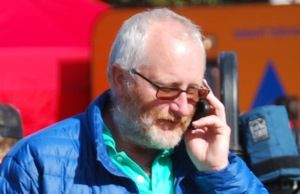 He's a Danish movie producer and co-founder of Zentropa, whose nickname is 'Ålen' (the eel). Nevertheless, when recently confronted with allegations that he has sexually harassed women, he was anything but slippery, freely admitting that "it's part of who I am".
So a bit like Kevin Spacey?
No, a million times unlike the American actor's out-of-the-closet deflection. This was a proud confirmation it was indeed he who grabbed film critic Nanna Frank Rasmussen's arse at the Berlin Film Festival in the 1990s. He was neither drunk nor sorry. "If she has a problem that someone has slapped her on the bum at a party 10 years ago, that's something she'll have to deal with," he said.
I'm not sure that defence will work for Harvey Weinstein
Maybe not, but Denmark has always had a pretty high tolerance of men using their high standing to grope women. Have you ever been to a Danish Christmas office party? Copenhagen mayor Frank Jensen's had a handful of them, if you catch our drift, and it's never done his popularity any damage.
But we hear the Swedes are upset
Well, aren't they always. Swedish co-producer Film i Väst has demanded Aalbæk disassociate himself from Lars von Trier's movie 'The House That Jack Built', for which filming in the Swedish town of Trollhättan has just wrapped. Film i Väst could withdraw its approval for the use of the footage if it is not satisfied. "If the Swedes only want to work with Asian Social Democrats, then it's their right," Aalbæk said in response.
So … who is he again?
He is to Danish movie production what Aaron Spelling is to US melodrama: the man controlling the purse strings. He's easy to spot in his colourful clothes and square glasses, always smoking a fat cigar with a big grin on his face – unless he's watching children perform.
He doesn't like children?
He might have three himself, but when he appeared as a judge on the Danish talent show 'Talent 2008', he quickly became known for telling (un)talented kids they were useless to their faces.
Besides that, where might I know him from?
He's produced more than 100 films, winning many awards, since he co-founded Zentropa with Lars von Trier in 1992.
What kinds of films and prizes?
It all started with the Dogma films, but lately his awards have included two Silver Bears for 'A Royal Affair' and the 2010 Oscar for best foreign film for 'Hævnen' ('In a Better World').
I thought Susanne Bier won that
Technically, it was an award for Denmark, although she did seem to claim it. Maybe she did it to spite him, as apparently, according to BT newspaper, he tried to strangle her many years ago.
Why did he do that?
Because she was both smarter and prettier than him – or so his story goes.
Any other interesting director 'issues'?
In most other cases, it's the directors who make his life difficult, like the time he had to deal with Von Trier's Nazi comments at Cannes.
That's a tough gig.
Ålen's no stranger to controversy. At Zentropa, he hired a known paedophile, claiming he was a "good fellow". He told Ekstra Bladet tabloid that "it sends a signal that Zentropa is a really tolerant company. Jesus was the first to nurture relations with prostitutes and thieves, so it´s something that we read in the Bible."