News
Business News in Brief: New Danske Bank report links Putin family to money laundering scandal
---
This article is more than 5 years old.
Elsewhere, COWI and MobilePay see success abroad while Maersk diversifies fleet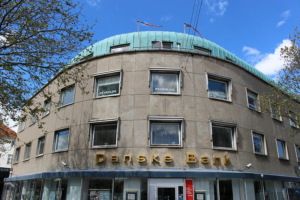 The surfacing of a new 'whistleblower' report in connection with Danske Bank's money-laundering scandal in its Estonia branch has implicated the family of Russian President Vladimir Putin and high ranking FSB officials.
According to Berlingske newspaper, the report was written by a Danske Bank boss in 2013 and suggests that Putin's cousin, the politician and businessman Igor Putin, and other persons with close ties to the FSB elite, were behind the money laundering scandal that rocked the Danish bank last September.
According to the report, Danske Bank's affiliate in Estonia discovered in 2013 that Igor Putin and the FSB tied were the actual owners of a number of suspicious companies that held accounts in the bank and made "suspicious payments".
READ MORE: Russian arms dealer syphoned millions through Danske Bank
Danske Bank mute
The report also indicated that Danske Bank "probably had committed a crime itself" and had likely "assisted in money laundering", while the whistleblower also pointed to a near total collapse of the Estonian affiliate's money laundering prevention procedures.
"You didn't think that the money-laundering case would become more serious for Danske Bank. But apparently, it could," Jakob Dedenroth Bernhoft, an expert in money laundering legislation and head of legal services revisorjura.dk, told Berlingske.
"The new information shows that this is a very unique case with foreign policy perspectives that almost defy imagination."
The new revelations reveal that Danske Bank's leadership had more knowledge of the illegal ongoings at its Estonian branch in 2013 than it has led to believe.
Danske Bank said it was undergoing a thorough investigation of the case and wouldn't have a comment until the said investigation had been completed.
---
Maersk eyeing smaller ships
The Danish shipping giant Maersk Line has revealed that in future it will order fewer of the massive container ships in order to give its fleet more of a balance. The company feels the future of the shipping industry dictates a need for more diversification in terms of ship sizes. Out of its current order book consisting of 20 ships, only six are of the largest Triple E type. One of the pitfalls of larger ships is that many harbours aren't equipped to load and unload them. Conversely, a benefit is that the cost per container is reduced for a fully-loaded big ship.
SAS steady in second quarter
Despite posting a loss of 239 million Swedish kroner for the first quarter of 2018, the Scandinavian airline SAS must still be reasonably satisfied with proceedings. A loss was expected and the airline managed to halve its deficit by 300 million kroner compared to the same quarter in 2017. Turnover remained about the same compared to last year at around 9 billion Swedish kroner. Parts of the savings have come from a new streamlining strategy that aims to improve the annual result by about 700 million Swedish kroner. SAS opened a new base in London, its first outside the Nordics, and another will be opened for business in Malaga this summer.
COWI in Ugandan airport upgrade
The Danish engineering group COWI is taking part in the upgrading of Entebbe Airport in Uganda. COWI will team up with Chinese and Lebanese contractors for the renovation, a process that will take place while the airport remains operational. COWI has not only designed a new passenger terminal and cargo building, but landing strips and taxiways are also to be improved. The airport gained notoriety in 1976 when Air France Flight 139 from Tel Aviv to Paris was hijacked and taken to Entebbe, and Israeli commandos rescued the hostages in the daring Operation Entebbe, which is often referred to as Operation Jonathan in memory of the only fatality, Yonatan Netanyahu, the elder brother of the country's current PM.
MobilePay makes Finnish inroads
The Danish digital payment system MobilePay has entered into a significant strategic co-operation with Finland's biggest retail chain S Group and the chain's bank, S-Bank. The deal means the Finns can start using MobilePay in 1,000 supermarkets across the country this spring, and then later at an additional 600 other businesses within the restaurant, hotel and petrol station industry. The agreement is a big step towards making MobilePay the leading Finnish mobile payment solution. S Group shops reportedly handle 1.1 million customer transactions from Finnish customers every day.