Things to do
Performance Preview: Confronting the hypocrisy of being unable to kill for your supper
---
This article is more than 5 years old.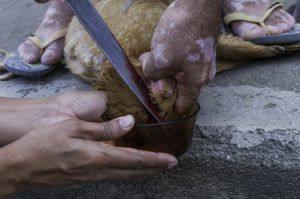 Directed by Down the Rabbit Hole Theatre's resident director Jeremy Thomas-Poulsen, this solo performer (Malte Frid-Nielsen) act confronts the hypocrisy of eating meat without being willing to kill an animal.
The play is inspired by an article by Brendan Kiley in which the American journalist confronted his own demons by picking up his spear and embarking for the hunting grounds.
But instead of the wilderness, he opted for the urban jungle, preying on squirrels, pigeons and even garden snails.