History
Danish-Irish conquests: pillaging, pubs and the Paddy's Day phenomenon
---
This article is more than 5 years old.
The two countries have a lot in common – and this camaraderie was no more evident during their 2018 World Cup playoff in November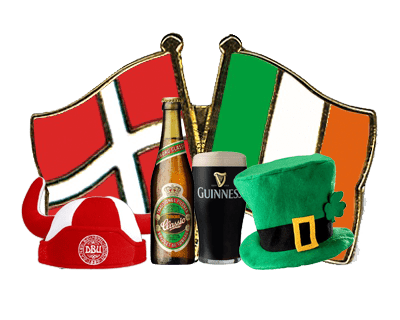 Denmark and the Republic of Ireland have a lot in common. There's the constant rain, of course, and their love of beer, and even Hamlet, who was originally Irish apparently. They have similar populations (5.7 vs 4.8 million) and are part of bigger regions (Scandinavia and the British Isles) of which they like to think they're top boys despite being outnumbered (by the Swedes and the English). Talking of which, they're big exporters to the UK (of bacon and people) and, as we found out last November, they love their footy, even though they're better at other sports (handball and Gaelic varieties).
Viking conquest
The countries have a shared history that goes back over a millennium. This was brought to the fore over the summer of 2007 when the Sea Stallion, the Viking Ship Museum's reconstruction of a longboat, arrived in Dublin after completing a six-week, 1,000-mile voyage from Roskilde. Based on a wreck discovered in Roskilde Fjord, the original vessel was made in 'Dubhlinn' in around 1042 when the Irish capital was a mere Viking trading fort. The 65-member crew spent most of their time on deck exposed to the elements and soaked to the skin.
The Vikings are believed to have first invaded Ireland in 795 on Rathlin Island off the northeast coast – as was often the case, the first victims were monks at a monastery. The pillaging continued sporadically over the next two centuries as the Vikings began to occupy, initially close to the shore, and then inland, particularly as it became clear there were more monasteries to loot. Between 849 and 852, we have our first historical reference to a different kind of Viking: the Dane.
But the Irish enjoyed their fair share of victories, and eventually Brian Boru, a ruler from Munster, saw them off in 1002 – seemingly for good – but then another Viking victory in 1014 led to another period of Scandinavian rule.
Denmark's culture minister, Brian Mikkelsen, took the arrival of the Sea Stallion as an opportunity to apologise! "In Denmark we are proud of this ship, but we are not proud of the damages to the people of Ireland that followed in the footsteps of the Vikings," he told the crowds who had gathered at the dockside.
Trade wars
Following the Viking exodus, it wasn't until the 20th century that the two countries started to come into close contact again – particularly as the British ruled Ireland until 1922. Nevertheless, there was a trade rivalry between the two in the 19th century – particularly with regard to bacon, eggs, and butter. And following its independence, Ireland realised it could learn from Denmark in its bid to stand on its own two feet.
"Denmark is not only a smaller country than Eire but her climate is less equable, her soils are, in general, lighter and poorer, she has no coal and no water power to compensate for its absence, nor has she any iron ore or other metallic ores to serve as a basis for industrial activities," commented the Irish historian JP Beddy in 1943.
"Yet, in comparison with Eire, she has a bigger population, a greater agricultural output, a more extensive industrial system, a larger foreign trade, a lower national debt, a higher national income and a better standard of living."
Both countries went on to join the EU in 1973, along with the UK.
Inn to stay
In recent years, Ireland's biggest export to Denmark has been pubs. When the Shamrock Inn opened its doors near Axeltorv in 1989, it became Scandinavia's first Irish pub. Its landlady Eileen Bruun De Neergard told CPH POST in 1999 how Guinness did not even have a Danish agent back then, meaning she was forced to make frequent visits to procure supplies of the brew.
The next pub on the scene that is still going strong today was the Dubliner on Strøget. Its Scottish landlord Gus Brown first visited Copenhagen in 1986, when he was given a job at Burger King by Charlie Scott (who today runs a bar under his name on Skindergade). And then on a trip to Sweden to watch Euro 1992 he entered the Dubliner in Gothenberg where he met his future business partner, Ian McGlinchey. The pair started working together and heard about a special building in Copenhagen. Formerly it had been a Häagen-Dazs ice cream parlour. Back then, there was no nightlife in the centre of town, so it was by no means easy drawing in the punters when it opened in 1995.
The Globe on Nørregade is the city's third oldest ongoing Irish pub. Like the Dubliner, it has only had one landlord, Brian McKenna, who has been craicing the whip since 1997. A passing Dane saw something in the 22-year-old manager of McCormacks in Dublin and enticed him into setting up a pub in Budapest.
Two years later the pair found a multi-level premises with numerous nooks and crannies that was being used as an Indian restaurant. Using their ingenuity, the pair created a distinct pub complete with a 35-foot high tree and a main bar area constructed out of old church items. Nevertheless, the first half year was tough and it wasn't until the 1998 World Cup that the word started to spread.
More Irish pubs have since followed: most notably Kennedy's at the Vesterbro end of the Lakes (2000) and the Irish Rover on Strøget, which was set up in 2004 and run by former Dubliner bar manager Jonno Farrelly until his untimely death last March. Both of the pubs will probably echo Brown's sentiment that international customers will never be enough. He estimates that English-speakers only account for 10 percent of his trade, with Danes making up around 65 percent.
Paddy's invasion
Nobody can under-estimate the role the pubs have played in making St Patrick's Day on March 17 such a huge event. It's impossible to avoid the multitude of green in the city centre thanks to the success of the 3-Legged Race and the Parade.
The 3-Legged Charity Race, in which tied competitors run from pub to pub, drinking a beer at each pitstop, was founded in 2001 by Garrett McKeon, Desmond Carswell and Siobhan Kelleher-Petersen, who continues to take charge to this day with help from big brother John, a two-time winner and current quizmaster at the Globe.
In 2003 it experimented with being the 3-legged Spud n Spoon Bar race, but otherwise the formula hasn't changed much since the first year. The number of competitors certainly has though: from 18 pairs in 2001 to over 300 today. After the 2008 race was run in a blizzard, a time limit was introduced, and since 2007 it has raised around 400,000 kroner for charity.
The parade, meanwhile, started in 2005. Traditionally, three hours of afternoon entertainment at Rådhuspladsen, the city hall square, climaxes with the walking of a procession through the city centre's streets, always with St Patrick himself (either Ian Burns or Tom McEwan) at the front. Everyone is welcome to participate, providing they are wearing some green!
Its co-organiser Marianne Green was among the founders, and last year she told CPH POST how it quickly became a truly international affair following its first year. "When it first started it was mostly people we knew through Irish cultural activities and friends and families of those that got involved," she said.
"However, we launched it as an international event from the beginning and had ambitions for it to develop as such. This was very well received by the Danish press and it quickly grew and became a popular event."