News
Freddy turning 50: Royal bash in May
---
This article is more than 5 years old.
Crown Prince Fredrick to be celebrated over nine days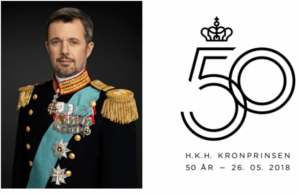 On May 26, the flags will be at high-mast all over Denmark as the country celebrates the 50th birthday of its future king, Crown Prince Frederik.
The Royal Family has unveiled celebratory plans that will commence on May 18 and span nine days, involving shenanigans in five Danish cities.
"The birthday arrangement will start a week before with anniversary surprises on May 18 at the crown prince's own foundation, the Crown Prince Frederik Fund, followed by a dinner at Frederik VIII's Palace," the Royal Family wrote.
"On Monday 21 May, the crown prince will lace up his running shoes with the rest of the Danes to take part in the Royal Run, which will take place in the cities of Aalborg, Aarhus, Esbjerg, Odense and København/Frederiksberg."
READ MORE: Queen Margrethe and Royal Family bid farewell to Prince Henrik
Royal party at Royal Arena
On his birthday, the crown prince will emerge onto the balcony at Frederik VIII's Palace at Amalienborg along with Crown Princess Mary, their four children and his mother, Queen Margrethe.
In the evening, the queen will host a gala dinner for Prince Frederik at Christiansborg Palace, including guests from home and abroad.
And on May 27, all of Denmark can take part in the festivities when the show 'All of Denmark celebrates the Crown Prince' kicks off at the Royal Arena in Copenhagen – a live television event that the Royal Family will participate in.
Read more about the entire birthday itinerary here (in Danish).
The celebrations will no doubt be a welcomed departure from the sorrow that the Royal Family has endured in recent months since the passing of Prince Henrik in February.