News
Wild, wet weather on the way to Denmark
---
This article is more than 5 years old.
A soggy May Day looks a certainty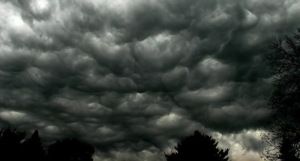 This past weekend's sunny skies will give way to high winds and heavy rain today, and the pattern looks like it will hang around for at least a couple of days.
National weather forecaster DMI warns that although some spots on Zealand may start out with sunshine, the storm is on the way.
"Monday brings strong winds and rain," meteorologist Thor Hartz told Ekstra Bladet. "There is also the possibility of thunder throughout the country."
Stormy Monday
A band of heavy storms with lots of lightning and heavy rain is currently located southwest of Jutland. It is the same storm that hit several places in western Europe yesterday and is now moving in a northerly direction.
The most intense part of the storm should play itself out over the sea, but southern Jutland could experience high winds and storm-strength downpours.
The rainfall will spread from Jutland and Funen to the whole country, with temperatures hovering between 10 and 15 degrees.
Tuesday's just as bad
Those attending International Workers Day celebrations tomorrow should also plan on getting wet.
"Tuesday will also be wet and cool with some wind," said Hartz. "Wednesday will be a little warmer with some sun."
Weekend reprieve
The weather will improve by the end of the week, and the upcoming weekend looks to be a good one.
"It could be 15 to 18 degrees on Saturday, and we should reach 20 degrees on Sunday," said Hartz.