News
PM unveils three new cabinet members
---
This article is more than 5 years old.
Government reshuffle results in two old faces and one new one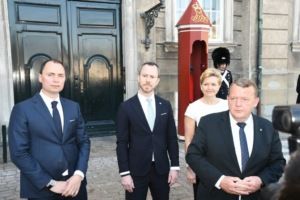 At 11:00 today, the Danish PM Lars Løkke Rasmussen announced three new Venstre ministers.
Eva Kjer Hansen is the new minister responsible for equality, the fisheries and Nordic co-operation, Jakob Ellemann-Jensen is the new environment and food minister, and Tommy Ahlers is the new minister for education and research.
The reshuffle came about due to the shock resignations of Søren Pind (education and research) and Esben Lunde Larsen (environment and food), and Rasmussen's decision to appoint Karen Ellemann (fisheries, equality and Nordic co-operation) to a different position outside the cabinet.
READ ALSO: Double jeopardy! Two ministers call it quits
Hansen has previous ministerial experience, having held ministerial posts in the areas of social, equality, the environment, food, agriculture and the fisheries. Back in 2016 she stepped down as the food and agriculture minister due to the turbulence surrounding a controversial agriculture package.
Ahlers has been a member of the government's Disruption Council and came to prominence as an entrepreneur and joint founder of the mobile backup site ZYB, which was sold to Vodafone for 50 million dollars in 2008. He has since been one of the judges on the DR TV version of the program 'Dragon's Den'.
Jakob Ellemann-Jensen – the brother of Karen and son of the legendary politician Uffe, a long-time foreign minister and leader of Venstre – has been Venstre's spokesperson on political issues since 2015. He became an MP in 2011.