Things to do
May Events: Architecture, antiquities, ale
---
This article is more than 5 years old.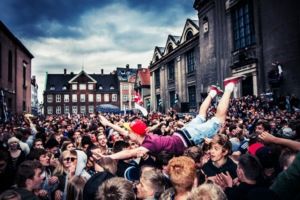 Copenhagen Architecture Festival
May 3-16; various venues; cafx.dk
The fifth edition of the festival will once again include a program of talks, films, performances, workshops, seminars and exhibitions. Find out why architecture in Denmark is so much more than bricks and mortar.
Big Quiz Nights
May 3, 17 & 31, 19:30; The Globe, Nørregade 43, Cph K; 30kr, five per team
May 7 & June 4, 19:30; Kennedy's, Gammel Kongevej 23, Cph V; 25kr, four per team
The winners get 1,000 kroner at the Globe, and 800 at Kennedy's. And who knows, the odd rollover has been known to go too.
Tin Man boxed in
May 4, 23:00; Culture Box, 54 Kronprinsessegade, Cph K; 100kr; culture-box.com
Red Bull Music presents Club Night with headliner Tin Man and more! Flood the dancefloors in the Black and Red Boxes and party to electronic music by some of the best international and local artists. (MA)
Day at the Races
May 4, 19 & 25, Jun 2, 16 & 24, from 12:00 (16:00 on May 25); Klampenborg Galopbane, Klampenborgvej 52; 60kr; galopbane.dk
Enjoy the fun and competitive spirit of Klampenborg Racetrack. Enjoy a flutter or two, listen to music and enjoy some great food and racing at the track. (MA)
Danish Stryger Competition
May 4-5, 10:00-15:00; Royal Danish Academy of Music, Rosenørns Allé 22,
Frederiksberg; free adm; dkdm.dk
Originally started in 2001, this annual competition was created to foster musical talent in young Danish musicians under the age of 30. Observe the first round, hosted by the Aarhus Symphony Orchestra, and support your favourite contestant. (EK)
CPH Salsa Festival
May 4-6; Kedelhallen, Frederiksberg; copenhagensalsafestival.dk
This festival will offer more than 50 work-shops in dances including salsa, mambo, cha cha, bachata, zouk, boogaloo and kizomba. In addition, you can also enjoy world-class shows and performances and attend dance parties. (CC)
Color Run
May 5; Valbyparken; thecolorrun.dk
Everyone is welcome to compete, regardless of age or ability, but it is also a great spectacle as the runners are splashed from head to toe with every colour imaginable as they jog along the 5 km route. A great day out with friends! (CC)
Doll's House Festival
May 5-6; Kulturhuset Stavnsholtvej 3, Farum; 65kr; dukkehusfestival.dk
International and local exhibitors show off their miniature abodes. The detail – from the handmade flowers to the furniture – is fabulous. And learn more about how you can make your own dollhouse. (CC)
Copenhagen Lindy Exchange
May 9-13; Wed & Sun at Søpavillonen, Cph K; Thu-Sat at Nationalmuseet, Cph K;
copenhagenlindyexchange.dk
Enjoy five days of dancing, music and laughter in Copenhagen. Daytime activities include boat trips and street parades, while the evenings belong to the dancefloor.
Copenhagen Zombie Crawl
May 9; location TBC, Cph K; copenhagenzombiecrawl.dk
Dress up in your costume and hang out with hundreds of other zombies. As the largest pub crawl in the city, it will leave you with unforgettable memories. (CC)
Sand Sculpture Festival
May 10-Sep 16, daily from 10:00; Kajgaden 7, Hundested; sandskulptur.dk
The seventh edition of this festival has a 'myths and legends' theme. Some 40 local and international sculptures, including several world champions, will display their biodegradable masterworks. (DW)
Psychedelic rock 
May 11, 20:00; KB18, Kødboderne 18, Cph K; 50kr; kb18.net
Experience the new wave of psychedelic rock through performances from Levitation Room and Cosmic Waves. Be one of the first to hear this new musical trend hitting the US and now Europe. (MA)
Friday Night Skate
May 11 & 25, June 8 & 22, 20:00; Solberg Plads, Frederiksberg; free adm; fns-cph.dk
Put on your skates and join the fun as people of all ages come together for an evening skate around town. Whether you're a greenhorn or a pro, this event is for everyone. (DA)
Mikkeller Beer Celebration
May 11-12; Øksnehallen, Cph V; 500kr; mikkeller.dk/festivals
The Mikkeller Beer Celebration reflects how beer has become more sophisticated, rivalling wine as a pairing to food. But at the time of going to press, it was close to selling out. The early May 11 session (10:00-14:00) is your best bet.
Mena & Mozart
May 17, 19:30, May 18, 15:00; DR Koncerthuset, Ørestads Blvd 13, Cph S; 85-550kr; drkoncerthuset.dk
Spanish conductor Juanjo Mena will unite a choir and orchestra to bring the works of Mozart to life. Pieces from Adès and Stravinsky are also on the program.(EK)
Copenhagen Medieval Market
May 18-21; Valbyparken, Cph SV; 150kr; kmm.dk
Come and experience life as it was lived during the Middle Ages. Knights on horseback jousting and fearsome Viking battle re-enactments provide the action, while various tents sell all manner of arts, crafts and nibbles, as well as providing demonstrations. (CC)
Ledreborg Living
May 18-21, open 10:00-17:00; Ledreborg Allé 2D, Lejre; 125kr; ledreborglivsstil.dk
Thousands will be heading to the picturesque Ledreborg Castle, the home of the Holstein-Ledreborg family, for a long week-end of house and garden inspiration. The 24th annual lifestyle fair offers a chance to try dirt-track mountain biking and pony-riding.
Danish Design Festival
May 23-30; various venues in CPH; ddfestival.dk
This festival celebrates the diversity of design present in Copenhagen with exhibitions, events, conferences and awards. Highlights include a creative workshop where participants can exchange design ideas. (DW)
Brus's birthday
May 17, 15:00; Brus, Guldbergsgade 29F, Cph N; free adm; tapperietbrus.dk
The Brus brewpub is inviting you to celebrate summer and its second birthday with a 12-hour event. Enjoy outdoor seating, good food, cocktails and beer. (MA)
Second chance
May 17, 19:00; Vega, Enghavevej 40, Cph V; 230kr; vega.dk
German band Milky Chance, known for their hit song 'Stolen Dance', were scheduled to perform in November but had to cancel. Now they are back in Copenhagen to perform songs from their new album 'Blossom'. (MA)
Click Festival
May 19-20; Kulturærftet, Allegade, Helsingør; 275kr; clickfestival.dk
Join curious and creative minds from all around the world at this contemporary art festival, which includes exhibitions, talks, workshops and music performances. (CC)
3 Days of Design
May 24-26; various venues in CPH; tickets from 100kr; 3daysofdesign.dk
This three-day annual festival for aficionados of design comprises exhibitions and talks – with plenty of international flavour as well. (CC)
Fortorvfest
May 26; Enghave Plads, Cph V; fortovsfest.dk
The child-friendly Fortorvfest includes live music, a flea market and plenty of entertainment. (CC)
500 Years of Music
May 27, 15:00-17:00; Tivoli's Concert Hall, Vesterbrogade 3, Cph V; from 185kr; tivoligardens.com
Concertmaster Kim Sjøgren will lead Denmark's light orchestra through classical music's historic past, assisted by Rasmus Botoft. Full of humorous commentary, this Tivoli Summer Classic event will be one for the ages. (EK)
KLANG
May 28-June 8; various locations; 80-250kr; klang.dk
KLANG, the Copenhagen Avantgarde Music Festival, will host over 30 Danish and international music acts. The festival, now entering its tenth year, is the country's largest event for contemporary music and will have programs for all ages. (EK)
Gran Partita in Tivoli
May 29, 19:30; Tivoli's Concert Hall, Vesterbrogade 3, Cph V; 50kr with entry to Tivoli; dkdm.dk
Enjoy Tivoli's beautiful scenery as you are serenaded by beautiful woodwind music. The concert, organised in partnership with Tivoli Summer Classic, will include compositions by Smaldone and Mozart. (EK)
Distortion street parties
May 30-31; Cph N & V; free adm; cphdistortion.dk
Distortion, which is 20 years old this year, has grown to become one of the biggest music parties in the world. In its prime, it included four street parties; today that has shrunk to two, but each will attract 100,000 people to the streets of Nørrebro and Vesterbro on Wednesday and Thursday night. (CC)
Copenhagen Beer Festival
May 31-June 2; Lokomotivværkstedet, Otto Busses Vej 5, Cph SV; 150kr; ale.dk
The long-established Copenhagen Beer Festival at Lokomotivværkstedet was born out of the campaign for real ale.