News
Talking hoops up with NBA star Khris Middleton in Copenhagen
---
This article is more than 5 years old.
The Milwaukee Bucks star has been participating in a Junior NBA camp in Denmark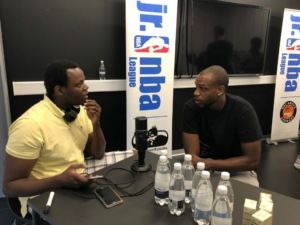 The NBA season recently concluded with a memorable post-season that featured many signature moments.
One player on the cusp of becoming a household name, who is already well known as a standout player to fans of basketball, is Khris Middleton.
Close against the Celtics
His shot from close to halfcourt with half a second remaining forced overtime against the Boston Celtics in the first game of their NBA Eastern Conference First Round seven game series in April – an opponent that ended up one game away from the NBA finals – and will not be forgotten any time soon.
His team, the Milwaukee Bucks, pushed Boston to a seventh and final game but could not prevail.
---
I sat down with him in Copenhagen to talk about giving back, representing the NBA and hoops.
EM: What brings you to Denmark?
KM: The Junior NBA – they have a camp here, and they asked me if I want to participate in it. I said why not. I thought it would be a great opportunity to come here to Denmark – to Copenhagen. To see the people, see the city and also to spread the game of basketball in Denmark.
EM: To be like a global ambassador for the game.
KM: Yes.
EM: Had you been to Europe before?
KM: I haven't been to Europe for like four to five years. The last place I went to was London.
EM: Why did you want to participate in the junior NBA program in particular?
KM: It's an important program – especially for basketball to keep going the way it's going. Doing a great job to teach the kids fundamentals, getting them to enjoy the game and love the game – and play it the right way. I think that's very important when it comes to teaching young kids how to play.
EM: I know you had a serious hamstring injury a couple of years ago – how much commitment does it take to bounce back from something like that?
KM: It can take a lot out of you, but you've got to be mentally tough. To fight back and come back even stronger. Injuries happen in this league, in this game, so you just have to be prepared for them and just work your way out of them – that's all I try to do. Just keep grinding my way back to where I was before.
EM: What personality traits does it take to perform in the playoffs?
KM: The main thing in the playoffs is confidence. Trusting the work that you put in. The time and effort, the sweat, the hours that you worked on your game. When the day comes, you let it all go – you've done it many a time. No matter what stage it is, go out and compete and have fun.
EM: Repetition
KM: Yes, yes.
EM: What will it take for the next step in your game – making the all-star team or all-pro?
KM: Keep expanding my game, keep getting more efficient. Keep taking what I do well or not so well, and take it a step higher every year. The flaws that I have – try to make them my strengths. And every year I've taken that approach and it has worked out for me. So hopefully this year will be the all-star year.
EM: How far can the Bucks go with new coach Mike 'Bud' Budenholzer?
KM: I think we can go all the way – we took Boston to 7 – it felt like we just couldn't get that one on the road. If we did it would have been a different ball game. I think he can take us to the top – where we wanna get. We have confidence in him – we trust him.
EM: Talented young team for sure!