News
News in Digest: VAR det alt? Danes fail to impress
---
This article is more than 5 years old.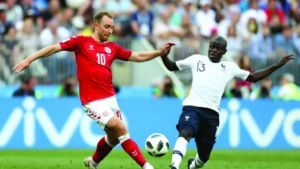 Lucky and lacklustre – two words that adequately describe Denmark's first two Group C matches at the 2018 World Cup in Russia.
Lucky to win against Peru on June 16 in Saransk after the South Americans squandered chance after chance, including a penalty.
And lacklustre against Australia in a 1-1 draw in Samara on June 21, despite going ahead early through Christian Eriksen's top-drawer finish.
True, the new VAR system may have been harsh on the Danes in that game, but still, it wasn't pretty.
Tak Peru
And so it all came down to France, a team the Danes have faced so often in the big tournaments, this time with a point needed to guarantee progression.
The already qualified French rested key players and were in no major urgency, mostly restricting their efforts to long-range shooting.
And then news came through from Sochi that Peru were leading against Australia in a game the Socceroos needed to win to deny Denmark.
Even with a loss, the Red and Whites would have qualified. A dour 0-0 draw – the first of the tournament – saw them through undefeated.
The barometer
There was little interest to note in the game, other than the history between the sides.
When France beat Denmark, they tend to thrive. In the 1998 World Cup and Euro 1984 and 2000, they followed groups wins by taking the tournament.
When they lose, like at the 2002 World Cup and Euro 1992, it's invariably curtains.
Denmark would appear to be France's barometer.
Croatia next
The Danish fans don't care. Their team hasn't played the most exciting of football in Russia by any stretch of the imagination, but they've still managed to reach their goal of progressing from the group.
The reward is a game against Group D winners Croatia in the last-16 in Nizhny Novgorod later today at 20:00.
A nation expects … to skip work the next day.
Denmark's history against the Croatians? Well, let's try to forget about Euro 1996 for now.