News
US authorities give green light for missile purchase
---
This article is more than 5 years old.
The Danish Navy will shortly be receiving a welcome gift that will enable it to protect both Danish ships and the coastline better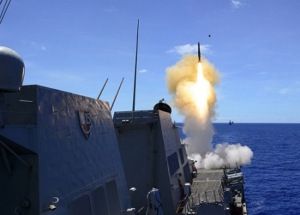 Is a one billion kroner price-tag a fair price for 50 shipborne guided missiles? That depends on your point of view of course, but the Danish Navy thinks so.
The US authorities have now given permission for the sale of up to 50 Standard Missile 2 or SM-2s to Denmark. The missiles will be used by three of the navy's frigates, which have been sailing around with empty missile tubes since 2010, TV2 Nyheder reports.
READ ALSO: Denmark ramps up capability to hunt for the likes of Red October
"The missiles are very important and will ensure we will be moving up into a whole other league," said Rear Admiral Torben Mikkelsen.
"You could say that up until now, because of their sensors and radars, the frigates have had eyes that could see a long way, but no weapons to defend themselves. Now they are getting the missiles to defend larger naval forces and coastal areas on land," he added.
A good buy
Despite the hefty price-tag, Henrik Breitenbauch, the head of the centre for military studies at the University of Copenhagen University, thinks they are worth every penny as they will allow the frigates to defend a very large airspace corresponding to almost the whole of Denmark.
"When you think that it is actually half the navy that will be armed, and remember that it is not the intention that the missiles will actually be fired, then it is a necessary and sensible expense," said Breitenbauch.
The new defence agreement made in Parliament in January provided for 'a number' of such missiles to be purchased. At the same time, the preliminary work is being started to enable Denmark to buy more modern missiles of the SM-6 type as well as other special precision-guided missiles.