General
Out & About: Lithuania the champions at football club's World Cup
---
This article is more than 5 years old.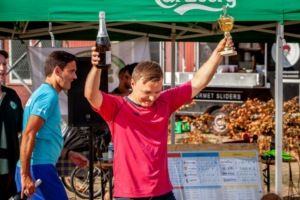 Lithuania isn't particularly well known for its football – basketball maybe, and for giving Charles Bronson and Hannibal Lecter to America of course – but try telling that to LG United, an all-star squad from the Baltic state who swept aside the opposition to win this year's Copenhagen Celtic Summer Party at the Kløvermarken playing fields on August 4.
Now in its 15th year, the tournament has really found its feet under the direction of organisers Jon Treacher (pictured left in main photo) and Chris Pilbeam.
Once again 12 teams showed up, representing organisations (the UN had a team), pubs (including The Globe and The Dubliner) and the various nationalities who make up Celtic, a club based in Valby that operates three 11-a-side teams and five sevens outfits, encompassing an age range that includes several players in their 60s.
In the end, LG were too strong for 'Denmark' in the final.